Central Development Laboratory
L band amplifier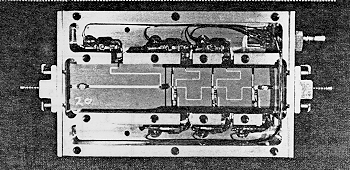 References:
J. D. Gallego and M. W. Pospieszalski, "Design and Performance of Cryogenically-Coolable, Ultra Low-Noise, L-band Amplifier", NRAO Electronics Division Internal Report No. 286, March 1990.
M. W. Pospieszalski, J. D. Gallego and W. J. Lakatosh, "Broadband, Low-Noise, Cryogenically-Coolable Amplifiers in 1 to 40 GHz Range, IEEE Microwave Theory and Tech. Int. Symp., 1990, pp 1253-1256.
Modified on [an error occurred while processing this directive] Original by Nancyjane Bailey, 1996.