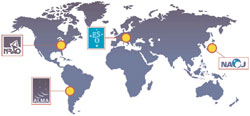 The North American ALMA Science Center (NAASC) at the NRAO headquarters in Charlottesville, Virginia is responsible for supporting the scientific use of the Atacama Large Millimeter/submillimeter Array by astronomers in North America. The NAASC staff also assists with support of ALMA operations in Chile, and plays a key role in the research and development activities that support future capability upgrades of the ALMA.
The NAASC staff will increase in the next several years so that it can support the community of ALMA users in North America. The first call for proposal for Early Science is planned for January 2010. Early Operations, which requires fifteen commissioned ALMA antennas and at least four of the ALMA receiver frequency bands, is expected to begin in August 2010.
The NAASC Data Archive will be available in January 2011, with automated pipeline data processing and reduction following in April 2011.
Full Science Operations begins with the completion of ALMA construction in December 2012.