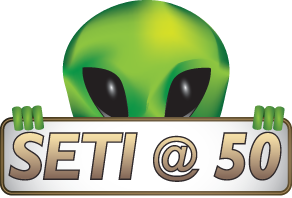 SETI@50 Special Events
Sept 4th: Movie Night
E.T.: The Extraterrestrial
7:00 PM

Fun in the Science Center
---
Sept 11th: Special Guest
Dr. Frank Drake
Originator of modern SETI
7:30 PM talk

Stargazing
---
Sept 18th: Show & Tell
Children's Art, Essay & Poetry Contest
Entry Guidelines (pdf)
---
Sept 25th: Special Guest
Dr. Bob Rood
Univ. of VA astronomer
7:30 PM talk

Passport Grand Prize
Fun in the Science Center
Information (304) 456-2150
GPS coordinates
38d-25'-48.2"N
79d-49'-03.93"W
Visit Us Again
Celebrate the Search for Extraterrestrial Intelligence (SETI)
This September at the Green Bank Science Center
Are Humans Alone in the Universe?
Fifty years ago, at the controls of the NRAO's first 85-foot radio telescope, Dr. Frank Drake began mankind's search for extraterrestrial intelligence. A lasting legacy of his work, the Drake Equation is a thought experiment that calculates the chances of finding civilizations that are broadcasting signals across the Galaxy.

During the month of September, we celebrate Drake's pioneering work and also explore the surprising wealth of science gained by hunting for life out in space. Join us for SETI-themed activities and special events, including the opportunity to meet Dr. Frank Drake himself.
Your Passport to Prizes
We have created the Drake Equation Passport, a booklet of information about the Drake Equation and the search for life in the Universe. You can get your Drake Equation Passport stamped at the locations listed below or find your own stamp at these special geocaching sites. They can all be found using this map (pdf). Get your passport stamped at seven or more of these fun-filled stops, and bring it back to us for a prize! Passports with at least seven official stamps are eligible for the Grand Prize to be awarded on September 25th at the Green Bank Science Center.
Where to Get Your Drake Equation Passport
Green Bank Science Center, Route 92/28 in Green Bank, WV (304) 456-2150
Pocahontas County Convention and Visitor's Bureau, 708 Second Avenue, Marlinton, WV (800) 336 - 7009.
Or print a copy at home!
Where to Stamp Your Drake Equation Passport
Use this map or these special geocaching sites to find the Drake Passport stops, or click on the links below.