Did You Know?
Observations with NRAO telescopes are often combined with observations at other wavelengths using telescopes such as the Hubble Space Telescope, Spitzer Space Telescope, Chandra X-Ray Observatory, Very Large Telescope, W.M. Keck Observatory, Gemini Observatory, Subaru, and others.
Science
NRAO telescopes and research facilities enable scientists from around the world to address fundamental questions about our Universe and make major contributions to scientific progress.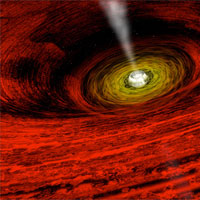 Black Holes: A black hole is a concentration of matter so dense that not even light can escape its gravitational pull. Black holes come in many sizes. Astronomers believe that a "supermassive" black hole, with a mass of about 4 million Suns, lies at the center of the Milky Way galaxy. NRAO telescopes offer the best prospect for actually imaging such a supermassive black hole.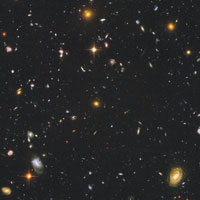 Early Universe: Using radio astronomy techniques, astronomers can probe the "Dark Ages" before the onset of the first stars and galaxies, and study the earliest generation of galaxies.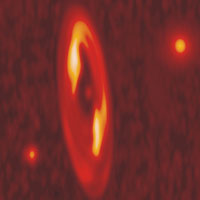 Star & Planet Formation: The earliest dust-enshrouded phases of star formation are the exclusive domain of radio astronomy. ALMA and EVLA are poised to make breakthroughs in our understanding of star and planet formation. ALMA will directly image planets around other stars.

Chemistry of Life: The NRAO Green Bank Telescope provides the sensitivity needed to detect the weak emission of complex organic molecules, the necessary precurors to life, in dark clouds.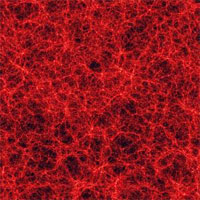 Dark Matter & Dark Energy: Dark matter and dark energy are among the most intriguing problems in modern physics. Together they comprise 96% of the mass and energy in the Universe, but nobody knows what either is.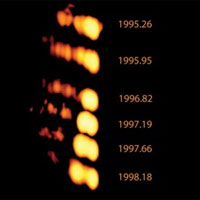 Probing Extremes: One of very long baseline interferometry's greatest successes was its discovery of the extremely fast and apparently faster-than-light or "superluminal" motions in the nuclei of some galaxies. These sources are unique probes of the most extreme speeds and energies known in the Universe.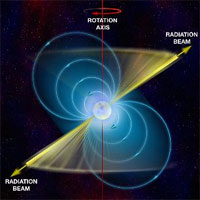 Testing Einstein: Observations at radio wavelengths of extraordinary objects such as fast-spinning pulsars are providing stringent tests of Einstein's Theory of General Relativity and important constraints on the exotic physics of high-density matter.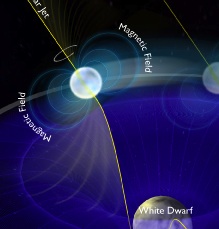 Weighing Pulsars: Using the tricks of General Relativity, pulsars can be weighed using their own pulses.