Dark Matter and Dark Energy
Dark matter and dark energy are among the most intriguing problems in modern physics. Scientists currently believe that together they comprise 96% of the mass and energy in the Universe. But nobody knows what either is!
Dark Matter
Dark matter is invoked to explain why galaxies hold together. But what is dark matter? There are many possibilities, and nobody really knows yet which is correct. The presence of dark matter is inferred from its gravitational effects on visible matter.
Present observations of structures larger than galaxies, as well as Big Bang cosmology, indicate that dark matter accounts for the vast majority of mass in the Universe. The observed phenomena consistent with the existence of dark matter include the rotational speeds of galaxies, orbital velocities of galaxies in clusters, and the temperature distribution of hot gas in galaxies and clusters of galaxies. Dark matter also appears to play a central role in structure formation and galaxy evolution, and has measurable effects on the cosmic microwave background, the remnant signal of the Big Bang.
The composition of dark matter is unknown, but may include particles such as ordinary and heavy neutrinos, and more exotic elementary particles such as WIMPs and axions, astronomical bodies such as faint dwarf stars and planets, and clouds of nonluminous gas. Current evidence favors models in which the primary components of dark matter are new elementary particles called "non-baryonic" dark matter. Ordinary matter is "baryonic" matter.
The dark matter component of our Universe appears to have much more mass than the components we can readily see. Determining the nature of this missing mass is one of the most important problems in astronomy and physics.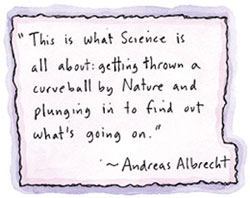 Dark Energy
Dark energy is necessary to account for the fact that the Universe is apparently not just expanding, but accelerating at an ever-faster pace. In the current standard model of cosmology, dark energy currently accounts for almost three-quarters of the total mass-energy of the universe.
High-precision measurements of the expansion of the universe are required to understand how the speed of the expansion changes over time. The rate of expansion is parameterized by the so-called "cosmological equation of state." Measuring the equation of state of dark energy is one of the biggest efforts in observational cosmology today.
New NRAO observations of water masers in other galaxies are yielding precise distances to these galaxies, which will allow a more precise measurement of the expansion rate of the Universe, and probe the characteristics of dark energy.