Testing Einstein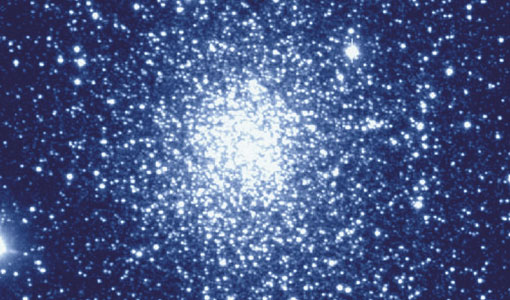 Observations of pulsars with the NRAO Green Bank Telescope (GBT) are providing stringent tests of Einstein's General Theory of Relativity. In addition, the high masses and short rotation periods of pulsars recently discovered by the GBT in globular clusters are providing constraints on the exotic physics of high-density matter. The NRAO Very Large Array (VLA) and Very Long Baseline Array (VLBA) also provide some of the highest precision tests of Einstein's theory. VLBA observations of how radio waves are bent by Jupiter's gravity are the most precise measurements of this relativistic effect.
Pulsars as cosmic laboratories
Pulsars, the fastest spinning stars in the Universe, are the remains of exploded stars, containing the mass of our Sun compressed into a sphere about 20 miles across. Pulsars are fascinating objects that act as cosmic lighthouses, sending short radio pulses with the regularity of the best clocks on Earth. Pulsars are also ideal cosmic laboratories to test the predictions of Albert Einstein's Theory of General Relativity. Gravitational radiation, ripples in the fabric of space predicted by Einstein, may serve as a cosmic traffic enforcer, keeping pulsars from spinning too fast.
How is a pulsar born?
Pulsars are created by stars at least 8 times more massive than our Sun. When such stars run out of nuclear fuel, they no longer have the energy (in the form of radiation pressure outward) to support their mass. Their cores quickly collapse, and then they become a "supernova" or exploding star. Depending on the star's original mass, what remains after these explosions is either a neutron star (pulsar) or a black hole.
Gravitational radiation halts pulsar spin-up
Some pulsars gain speed by accreting gas from a neighboring star, reaching spin rates of nearly one revolution per millisecond. These "millisecond" pulsars would fly apart if they gained much more speed. As the pulsar picks up speed through accretion, it becomes distorted from a perfect sphere due to subtle changes in the crust, depicted here by an equatorial bulge. Such slight distortion is enough to produce gravitational waves. Material flowing onto the pulsar surface from its companion star increases the spin, but loss of energy released as gravitational radiation tends to slow the spin due to the principle of conservation of energy. This competition reaches an equilibrium and sets a speed limit for pulsars.