VLA Data Featured on New Argentine Stamp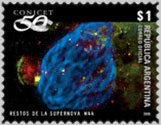 Las estrellas nacen, evolucionan y mueren. Algunas se apagan lentamente mientras otras terminan sus días con explosiones catastróficas. Este evento se conoce como "supernova" ("superestrella nueva") y en el momento de la explosión la estrella brilla más que cien mil millones juntas en un punto del espacio. Los restros de la estrella destruida se expanden por el espacio y se forman nebulosas bellísimas que son los "restos de supernovas", que brillan por decenas de miles de años, como los que se observan en el sello postal, en azul (restos de la supernova W44), producidos luego de una explosión que ocurrió 10 mil años atrás a una distancia de 10 mil años luz de la Tierra (95 mil billones de kilómetros).
English Translation: Stars are born, evolve and die. Some slowly turn off while others end their days with catastrophic explosions. Such an explosion is called a "supernova," and at the instant of the explosion the star shines with the light of a hundred million stars. The remains of the destroyed star expand through space, creating beautiful nebulae called "supernova remnants" that shine for thousands of years. This Argentine postal stamp shows the remains of a supernova that astronomers call W44. It was produced when a star exploded about 10 thousand years ago at a distance of 95 million billion kilometers from Earth (10,000 light years).