Fred K. Y. Lo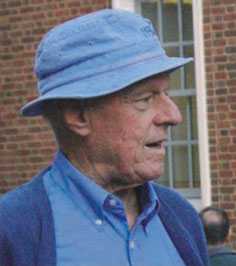 It is with great sadness that I write of the passing of Hein Hvatum on Thursday, 22 May. Hein was one of the first NRAO staff members and was with the Observatory from 1962 until he retired. During his long and extraordinarily productive career at the NRAO, Hein Hvatum guided all of the technical activities at the NRAO, including telescope design, construction and maintenance, electronics, and computing.
Hein was born on April 17, 1923 in Tonsbery, Norway and received his undergraduate education at Vestheim School in Oslo and his PhD in electronic engineering from Chalmers University in Sweden in 1954. He arrived at the NRAO as a Research Associate in 1958; and after a brief return to Sweden, rejoined the NRAO as an Electronics Engineer in 1961. In 1962 he became Head of the Electronics Division and then Assistant Director and Associate Director for Technical Services in 1964 and 1972, respectively. During this time he became responsible for the successful completion of the 36-foot mm telescope on Kitt Peak. In 1974 Hein assumed responsibility for the construction of the VLA. In 1980 he became responsible for the 25 m telescope project, and in 1985 he became Project Manager for the VLBA, before retiring at the end of 1987. Hein also served as Acting NRAO Director in 1984.
Hein was active in both national and international programs for the protection of radio frequencies for radio astronomy. He was also an avid cyclist, and for many years, an active radio amateur who organized numerous community emergency preparation drills.
Hein was one of those giants who helped make the NRAO the premier radio astronomy observatory in the world.