Robyn Harrison and Mark Adams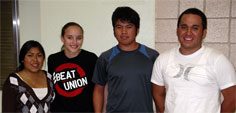 The villages of Magdalena, New Mexico in the United States, and San Pedro de Atacama in Chile's Region II are culturally similar. The majority of their populations are of native or Spanish ancestry; they derive the bulk of their income from agriculture and tourism; they are small communities of similar population; and they are both located in high-elevation desert near major international radio astronomy research facilities. The Very Large Array is just 25 km west of Magdalena; the Atacama Large Millimeter/submillimeter Array (ALMA) is only 40 km east of San Pedro de Atacama. Both villages have a single high school serving a large geographic area.
In September 2006, Mayor Jim Wolfe and the Village Council of Magdalena officially proclaimed San Pedro de Atacama its Sister City. San Pedro de Atacama Alcaldesa Sandra Berna proclaimed the same of Magdalena in December 2006. Thus began a close relationship and a mutually beneficial educational and cultural exchange between these towns, nourished and funded by Associated Universities, Inc. (AUI) and the NRAO.
In February 2007, San Pedro Principal Myriam Rivera, tourism teacher Gabriela Rodriguez, and Alcaldesa Sandra Berna visited Magdalena and participated in numerous school and community events. Magdalena Schools teachers Jim Sauer and Sandra Montoya returned the favor by traveling to San Pedro the following July. In the current semester, August – December 2008, the NRAO is sponsoring a student exchange, enabling two students from each community to spend a semester experiencing the culture of another hemisphere, living with host families and attending school in their new homes.
When Aracelli Ramirez and Soiky Casanga stepped off the plane in Albuquerque, New Mexico in early August, the weather was considerably warmer than the winter temperatures they had left in San Pedro de Atacama, Chile, the previous day. Charles Chavez and Lenaya Montoya will find the opposite temperatures when they leave Magdalena, New Mexico, and head for San Pedro later this month.
Mike Chambers, Superintendent of Schools in Magdalena, is so excited about the program that his family is hosting Aracelli. "I don't know of a better way to broaden these kids' horizons," Chambers said, referring not only to the students but to his own children as well.
All four students hope to become fluent in the language of the culture they are visiting and intend to make lasting friendships. Charles is the son of Charley and Alma Chavez. Charley is head of technical services at the Very Large Array. Lenaya Montoya is the daughter of Linda and the late Manuel Montoya, former security guard at the VLA. Chilean student Soiky is living with the family of Sandra and Tommy Montoya. Tommy is a welder at the VLA and Sandra traveled to Chile last summer.