Toney Minter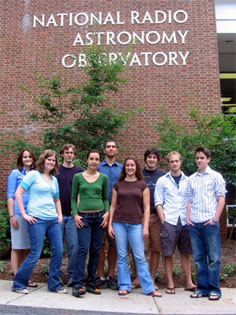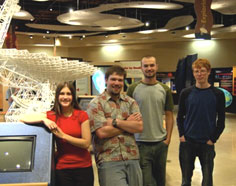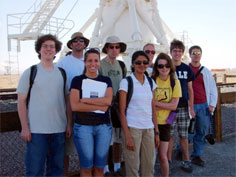 August brought to a close the 49th year of the NRAO Summer Student program. Twenty-three students participated in 2008 NRAO Summer Student program, including 16 undergraduate students supported by the National Science Foundation's (NSF) Research Experiences for Undergraduates (REU) program, three graduating seniors supported by the NRAO Undergraduate Summer Student program , and four graduate students supported by the NRAO Graduate Summer Student program. The NRAO Summer Research Program has graduated more than one thousand students in its tenure.
Summaries of the 23 students projects are available online. The summer program at each site (Green Bank, Charlottesville and Socorro) included a series of introductory level lectures on a wide variety of astronomical topics, often with an emphasis on radio astronomy and radio instrumentation.
The CV Summer Students joined the GB Summer Students on a series of four research projects using the Green Bank Telescope. Each project required the development and execution of an observing plan. With this popular aspect of their Summer experience, the 2008 students learned how to develop, execute, and interpret an observational radio astronomy project. The projects included performing OH observations of several comets, a study of radio recombination lines towards HII regions, a survey searching for extra-galactic HI and a study of formaldehyde in infrared dark clouds. The cometary OH observations will result in a published paper with Amy Lovell of Agnes Scott College. The Green Bank students were also invited to present a lecture on their summer research to the West Virginia Governor's School for Math and Science.
The Socorro Summer Students performed two observing projects. The first of these used the VLA to search for radio emission from exoplanets. If such emission were detected, this would open a new area of physical exploration for these objects. The second summer student project used the VLBA to study the young star system V773 Tau, a quadruple system in which two stars show variable non-thermal emission. The flux density of these two stars is shown to increase when the stars are closest together, implying an interaction of their magnetospheres, though the stars have never been observed at a resolution that shows if there are structural changes to accompany the rise in flux density. The students decided to observe this system at a high resolution (a few stellar radii) to resolve the structure of these stars. The Socorro Summer Students also participated in the Eleventh Synthesis Imaging Workshop.
Applications for the 2009 NRAO summer student program will be accepted beginning later this fall. Please visit our website for more information about the NRAO summer student program.