Gustaaf van Moorsel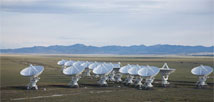 There are now 17 EVLA antennas in the array, and though the amount and severity of the teething problems we encountered initially have decreased substantially, we continue to urge all observers to carefully read the EVLA returns page prior to observing and/or data reduction.
On-going problems include:
Aliasing in Spectral Line mode, affecting 0.5 - 0.7 MHz at the edge of the band.
Increased, non-Gaussian noise when observing in spectral line mode at 12.5 MHz bandwidth. We strongly recommend this mode not be used.
Issues with the first integration of some scans. We strongly recommend careful inspection and flagging, e.g., by using the AIPS task QUACK to flag approximately the first 10 seconds of every scan.
In addition, the first 10 - 20 seconds after a change of band is often bad and not flagged. Users should make sure to observe a calibration source after a band change.