Sue Ann Heatherly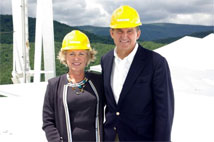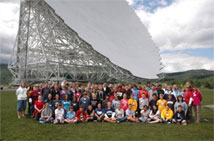 Mid-August marked the passage of the 4th annual West Virginia Governor's School for Math and Science (GSMS) in Green Bank—a two-week residential program for 60 talented 14-year olds from around the state. In a nutshell, GSMS focuses on instilling a strong appreciation for mathematics and the sciences while students are in middle school, before they make critical decisions that will guide their academic and professional careers.
The central theme for the program is radio astronomy research. While in residence, students work as if they were professional radio astronomers. Conducting research in small teams, they observe with our 40-foot diameter radio telescope and receive a small amount of observing time on the Green Bank Telescope. They collect and analyze their data, then present their findings to each other, GSMS staff, and NRAO scientists in a colloquium. But the fun doesn't stop there. Students also participate in directed studies including electronics, astronomical image processing, and stream ecology, in seminars that range from ball-room dancing to calculus, and in outdoor activities including caving, adventure hikes, and mountain biking.
This academic camp continues to be one of my favorite programs at the Observatory because we, the NRAO staff, get something back from the students. They are, for the most part, a joy to work with. And we're not alone in feeling a sense of inspiration. West Virginia's Governor, Joe Manchin III, agrees with us. He and First Lady Gayle were similarly inspired during their visit with this summer's students on August 11.
They flew in to the site by helicopter, and took a VIP tour of the GBT before meeting the students. They were both mightily impressed by the telescope, but I think the GSMS students trumped the GBT. Governor Manchin's words are more eloquent than mine, so I excerpt from his weekly column dated August 15, 2008. (http://www.wvgov.org/secprint.aspx?id=43&columnid=394):
"While in beautiful Pocahontas County, I caught up with the nearly 60 students who were taking part in the program. I learned as much from them about our future as I hope they learned from me about our plans to create opportunities for them right here in the Mountain State. I was impressed by their eagerness to grasp new science and research concepts, which is essential if we expect our state to compete in the global economy… As leaders responsible for our children's growth, we must do a better job of encouraging those students who have interest or special skills in math and science to build upon those skills. Placing them in a fantastic research setting… and giving them an opportunity to learn from great scientists and professors does just that. It builds on their enthusiasm and encourages these bright young people to excel. I also saw the same enthusiasm in their mentors. The scientists and instructors, along with me, sensed the energy of these kids, and we enjoyed the opportunity to see them blossom in such a fantastic setting."
Thank you to all of the NRAO-Green Bank staff, who not only make Governor's School happen each year, but who also inspire and are inspired by our Governor's School students!