Karen O'Neil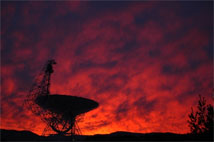 September 30 marked the end of the summer test period for the beta version of the Green Bank Telescope's new Dynamic Scheduling System (DSS). The DSS test period was designed to allow the Green Bank team to test both the software and the policies planned for the final GBT dynamic scheduling system which is planned to be released in 2009. The summer tests were extremely fruitful, giving the team a chance to try new software technologies as well as refine the algorithms and policies behind the new DSS. In addition, the GBT was able for the first time to schedule experiments through 48 GHz during the summer months, showing off the system's flexibility to adapt to changing weather patterns.
At the end of the tests we surveyed all DSS users for their opinions on the beta release. These results will be combined with the outcome of the tests to build a plan forward for the DSS that will be presented to an external review committee in early December. The team will then begin the process of redesigning and rebuilding the DSS with an eye on switching over to the DSS for all GBT telescope scheduling during the 2009 calendar year.
We have received a number of requests from GBT observers to continue the DSS after the end of the summer tests. However, the results of the tests have shown us that the software, algorithms, and policies need considerable refinement before they will be ready for a final release, and we lack the staff to be able to both make these changes and keep the beta version running on the telescope. As a result, we did turn off the DSS on September 30 and will not restart it until the next version is complete. The team will continue working in the meantime to insure that the final product meets the needs of all GBT observers while still attaining the goals laid out for the project.
Further information on the GBT DSS is online at http://www.gbt.nrao.edu/dss.