Ellen Bouton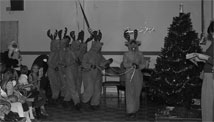 With this eNews issue, we begin monthly publication of photographs from the NRAO Archives. We hope readers will enjoy seeing a selection from the wide array of Archives photos that illustrate and document NRAO history, as well as selected photos of interest from our various collections of individuals' papers.
About this month's photograph: Children's holiday parties, held annually at all sites, are a long tradition at NRAO. In this photo from the 1977 party in Green Bank, Santa and his reindeer make their grand entrance. Can anyone identify who is beneath the Santa or reindeer costumes?
If readers have photographs they believe would be of interest to the Archives, please contact Ellen Bouton, ebouton@nrao.edu.