Sergio Cabezon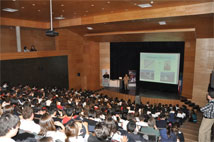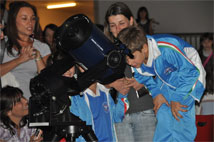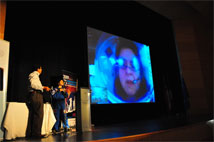 The "100 Hours of Astronomy" (100HA) programming organized by NRAO/AUI in Chile as part of the International Year of Astronomy 2009 (IYA) provided many opportunities for the public to learn about astronomical research and observatories around the world. More than 4,000 persons attended the 100HA events and enjoyed learning about the principles of radio astronomy, ALMA, and ALMA technology. This celebration involved also the collaboration of observatories, universities, government agencies and amateur astronomers.
These 100HA events were held at the Scuola Italiana Vittorio Montiglio in the outskirts of Santiago from 2-5 April. Most attendees were students and teachers, who enjoyed astronomical image exhibitions, a lecture series, planetariums shows, observing sessions, and more.
The lecture series featured 18 hour-long public talks and covered a diverse set of topics, including radio astronomy, optical astronomy, NASA space missions, astronomical software, the astronomy of Chile's indigenous peoples, light pollution, radio frequency interference, and more. This leadoff lecture in this series was titled The New Universe: The Vision from Chile and was presented by Eduardo Hardy, AUI-NRAO representative in Chile, to a standing-room-only audience of 280 persons. A talk by the first Chilean astronaut candidate, Carmen Gloria Jimenez, also proved popular. Jimenez, who is a Universidad de Concepcion faculty member, described how NASA trains its future astronauts. She connected to her audience via videoconference from the Mars Desert Research Station (MDRS) in Utah, in the United States. Thus, the Chilean audience received a long distance lesson called "Message from Mars," where the attendees could ask about the Martian climate and the daily life of astronauts in space.
More than 500 children and their families enthusiastically participated in Star Parties, an initiative that provided many with their first opportunity to witness the wonders of the night sky. The live 24-hour webcast "Around the World in 80 Telescopes," was projected on the auditorium's large screen. At the same time, a scientist guided children and their families through a planetarium show.
The Chilean 100HA programming sought to convey the central IYA theme: "The Universe, Yours to Discover." The NRAO will be collaborating with the Chilean astronomical community throughout the IYA to organize and lead activities that will introduce people of all ages and from all walks of life to the wonders of our Universe.