CASA Team
The Common Astronomy Software Applications (CASA) package, being developed by NRAO and ALMA, will be used for offline reduction and analysis of both ALMA and EVLA data. The first non-beta version of CASA, R3.0.0, was released on 2009 December 23. Linux and MacOS (10.5 and 10.6) distributions are available from the my.nrao.edu portal.
CASA is fully scriptable. It offers: (1) a growing suite of data reduction tasks written in C++ with a Python interface; (2) plotting through matplotlib; and (3) a Qt-based viewer and plotter.
CASA is now being used regularly for ALMA commissioning in Chile and for filling as well as inspecting data from the new EVLA correlator. Also, a complete end-to-end reduction of Orion K-L yielded images as well as wideband maser spectra with 24012 channels (see figures).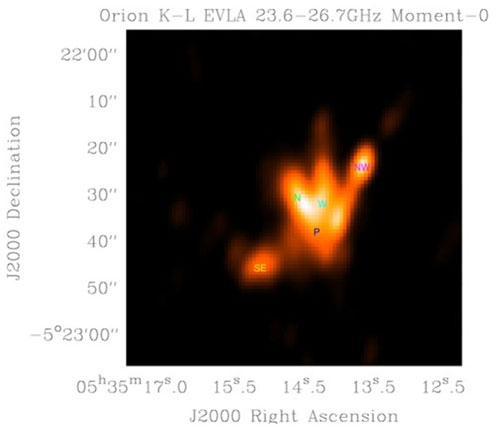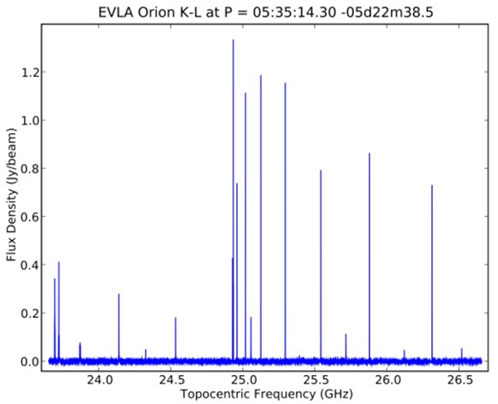 CASA tutorials have been held in Santiago, Chile; Socorro, NM; Garching, Germany; Mitaka, Japan, Hamilton, Canada, and Paris, France; reaching about 200 participants in total. A number of additional tutorials are planned for 2010 and beyond. CASA supports direct import of data in ALMA, VLA, and EVLA formats, and almost any data that can be written to uv-fits can also be imported and reduced (for example BIMA, CARMA, SMA, ATCA).
For further information, consult the CASA homepage.