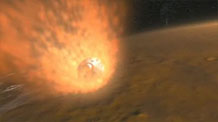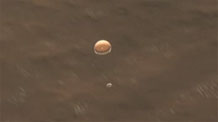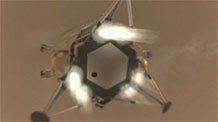 Phoenix Mars Lander Mission
NRAO telescopes and personnel will collaborate with NASA this Sunday, May 25, as the Phoenix Mars Lander enters the atmosphere of Mars and lands on the planet's surface at about 07:53 p.m. EDT.
The Green Bank Telescope (GBT) will play a key role in monitoring the spacecraft's status as Phoenix performs the complicated sequence of events required to land on Mars. Communications from Phoenix to Earth were designed to be relayed from the lander to spacecraft in orbit around Mars, and then re-transmitted to Earth where they are received by NASA's Deep Space Network. Under an agreement with the Jet Propulsion Laboratory, signals transmitted from the Phoenix Mars Lander will be monitored by the GBT, which is equipped with receivers at the appropriate frequency. NASA is also sending specialized equipment and personnel to the GBT for this critical event in the Phoenix mission.
Most importantly, the signal received at the GBT from Phoenix will be the first indication that the spacecraft has landed on Mars.
In cooperation with NASA's Deep Space Network, the NRAO Very Long Baseline Array (VLBA) is carrying out a series of observations of Phoenix that are tests of the VLBA's capability to provide precise navigation of spacecraft as they approach planets in our Solar System. The VLBA observations of Phoenix will become progressively more accurate as the spacecraft approaches Mars. In the last day prior to the landing, VLBA measurements of the location of Phoenix with respect to other spacecraft in orbit around Mars is expected to provide relative position accuracies of about 100 feet even though the distance between Mars and the Earth will be 170 million miles.
The GBT will broadcast live to the Clay Center for the Arts & Sciences in Charleston, WV from 07:00 to 08:00 p.m. EDT on Sunday evening during the Phoenix descent and landing. This broadcast will also be available via the Internet at: