The Extragalactic Sky at 74 MHz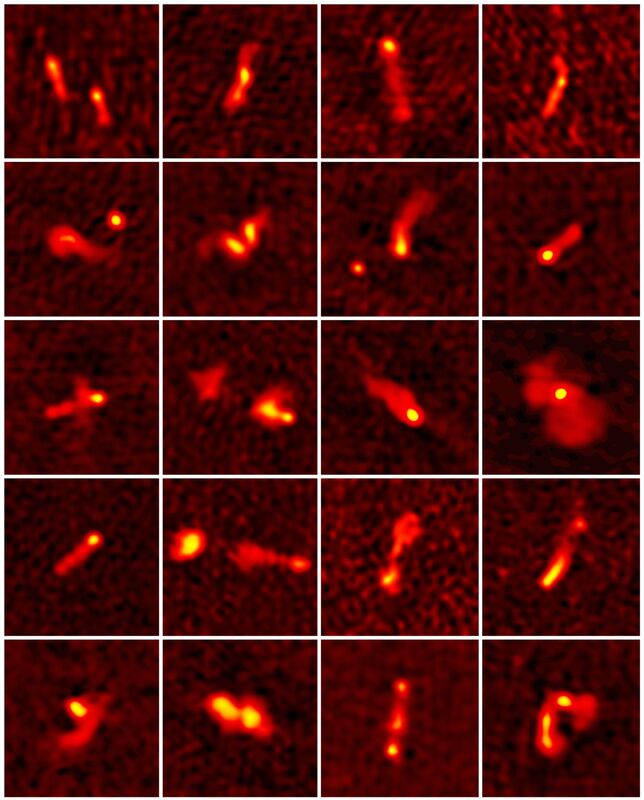 Description
This image shows the sky as seen by the VLA at 74 MHz. This image is part of a large survey of the northern sky undertaken at the VLA. None of the objects visible are stars. Rather they are the cores of active galaxies (active galactic nuclei or AGN) probably located about halfway across the observable Universe.
This image is one of the fields acquired as part of the VLA Low-frequency Sky Survey (VLSS). The VLSS is a B-configuration survey of the sky accessible to the VLA, with an angular resolution of 80" and a sensitivity target (1sigma) of 0.1 Jy/beam.
Creator
Legacy Astronomical Images
Rights
NRAO/AUI/NSF does not hold full copyright for this image. Contact the archivist for details.
Type
Legacy Astronomical Image
Photo Credit
Naval Research Laboratory
Investigators
Perley, et al.
Telescope
Very Large Array (VLA)
Observation Date
2001-02-27
Type of Observation
continuum
Center of Image
RA 13:20:0.000, Dec: 70:30:0.000 (J2000)
Field of View
3.500000 x 3.500000 degrees
Notes
Contact the archivist for a high resolution tif of this image.
Series
Active Galactic Nuclei Series
Unit
Other Active Galactic Nuclei Unit
Citation
Legacy Astronomical Images, "The Extragalactic Sky at 74 MHz,"
NRAO Archives
, accessed October 16, 2021,
https://www.nrao.edu/archives/items/show/33333
.