3C219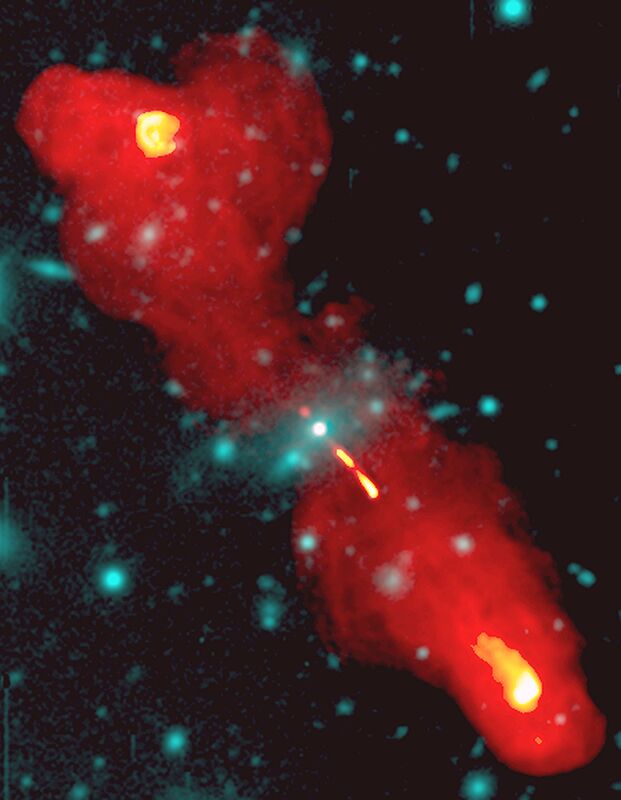 Description
Radio image (red and yellow) is superimposed on an optical V-band field (blue). Radio features include an unresolved "core" at the center of the parent galaxy, a partial jet to the south-west, extended hot spots in both lobes and fine-scale filaments throughout the lobes. The parent galaxy is the brightest member of a compact cluster of which several other members are visible in the optical image. The redshift is 0.174 and the overall size of the radio source is about 370 kpc (for Hubble constant H=100 km/s/Mpc). The almost-circular shape of the hot spot in the northern lobe is unusual and its nature is controversial. The bright feature just to the north east of the galaxy is seen at higher resolution to be part of a counterjet structure. The difference in length and brightness between the main jet and the counterjet may be explained in terms of bulk motion at a velocity close to that of light in both features, although other interpretations are possible. The major features of this source are quite representative of structures seen in powerful radio galaxies -- elongated lobes filled with networks of filaments, bright hot spots near the outer parts of the lobes and a significant brightness asymmetry between the two jets.
VLA in A+B configuration using 27 antennas. Resolution of image is 1.3" x 1.2".
Creator
Legacy Astronomical Images
Rights
NRAO/AUI/NSF does not hold full copyright for this image. Contact the archivist for details.
Type
Legacy Astronomical Image
Investigators
David A. Clarke, Alan H. Bridle, Jack O. Burns, Richard A. Perley, Michael L. Norman
Telescope
Very Large Array (VLA)
Observation Date
1992-00-00
Type of Observation
continuum
Center of Image
RA 9:21:8.650, Dec: 45:38:58.000 (J2000)
Field of View
0.050000 x 0.050000 degrees
Link to journal article
Notes
Contact the archivist for a high resolution tif of this image.
Series
Active Galactic Nuclei Series
Citation
Legacy Astronomical Images, "3C219,"
NRAO Archives
, accessed October 21, 2021,
https://www.nrao.edu/archives/items/show/33410
.