Sagittarius B2 (North)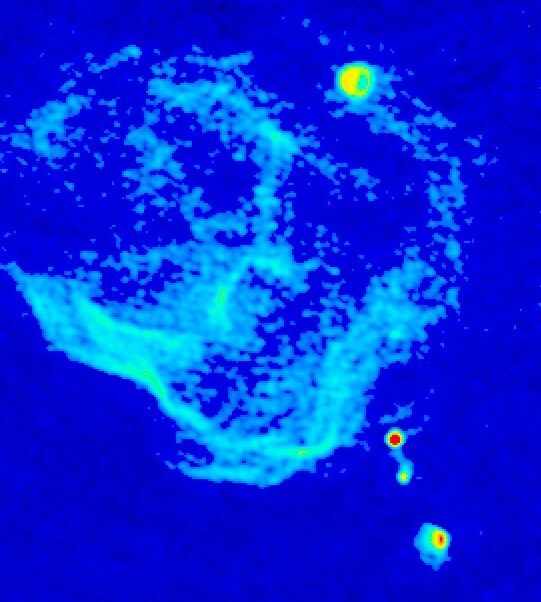 Description
The giant molecular cloud, known as Sagittarius B2 (North), as seen by the NSF's Very Large Array (VLA) radio telescope in New Mexico. This is the cloud in which scientists using the 12 Meter Telescope detected the simple sugar molecule glycolaldehyde. This VLA image shows hydrogen gas in a region nearly 3 light-years across. In this image, red indicates stronger radio emission; blue weaker. The 12 Meter Telescope studied this region at much shorter wavelengths, which revealed the evidence of sugar molecules.
Creator
Legacy Astronomical Images
Rights
NRAO/AUI/NSF does not hold full copyright for this image. Contact the archivist for details.
Type
Legacy Astronomical Image
Investigators
R. Gaume, M. Claussen, C. De Pree, W.M. Goss, D. Mehringer
Telescope
Very Large Array (VLA)
Observation Date
2000-00-00
Center of Image
RA 17:47:20.400, Dec: -28:23:7.000 (J2000)
Link to journal article
Series
Galactic Sources Series
Unit
Galactic Center Unit
Citation
Legacy Astronomical Images, "Sagittarius B2 (North),"
NRAO Archives
, accessed October 16, 2021,
https://www.nrao.edu/archives/items/show/33432
.