Pulsar B1757-24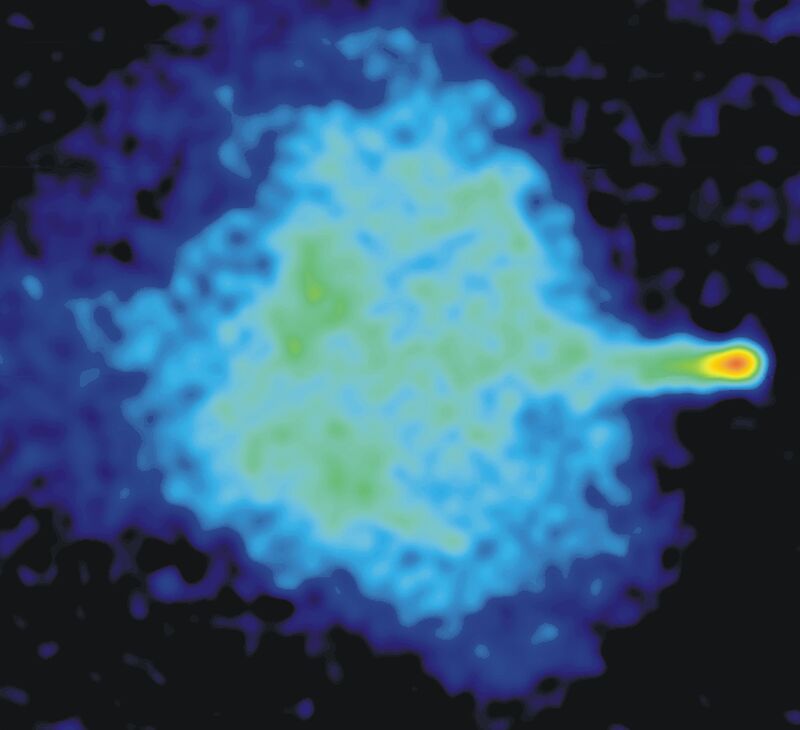 Description
A energetic nebula created by the pulsar B1757-24. In this false color image blue indicates fainter radio emission, yellow and orange more intense radio emission. The pulsar lies at the western (right) edge of the nebula at the brightest spot on the image. The pulsar B1757-24 is a relatively young (<100,000 years) neutron star born in the collapse of a massive star 10-20 times the mass of our Sun. Energetic particles streaming from the surface of this young neutron star leave behind a "wake" of radio emission as the pulsar moves through space.
X-band (3.6 cm) observations of "The Duck", taken in 1993 in with the VLA in its DnC, CnB and BnA configurations.
Creator
Legacy Astronomical Images
Rights
NRAO/AUI/NSF does not hold full copyright for this image. Contact the archivist for details.
Type
Legacy Astronomical Image
Photo Credit
Dale A. Frail
Investigators
Dale A. Frail
Telescope
Very Large Array (VLA)
Observation Date
1993-03-01
Type of Observation
continuum
Center of Image
RA 17:59:59.970, Dec: -25:5:11.800 (J2000)
Field of View
0.058333 x 0.058333 degrees
Notes
Contact the archivist for a high resolution tif of this image.
Series
Galactic Sources Series
Unit
Pulsars/Neutron Stars Unit
Citation
Legacy Astronomical Images, "Pulsar B1757-24,"
NRAO Archives
, accessed October 21, 2021,
https://www.nrao.edu/archives/items/show/33472
.