Einstein Ring 4C 05.51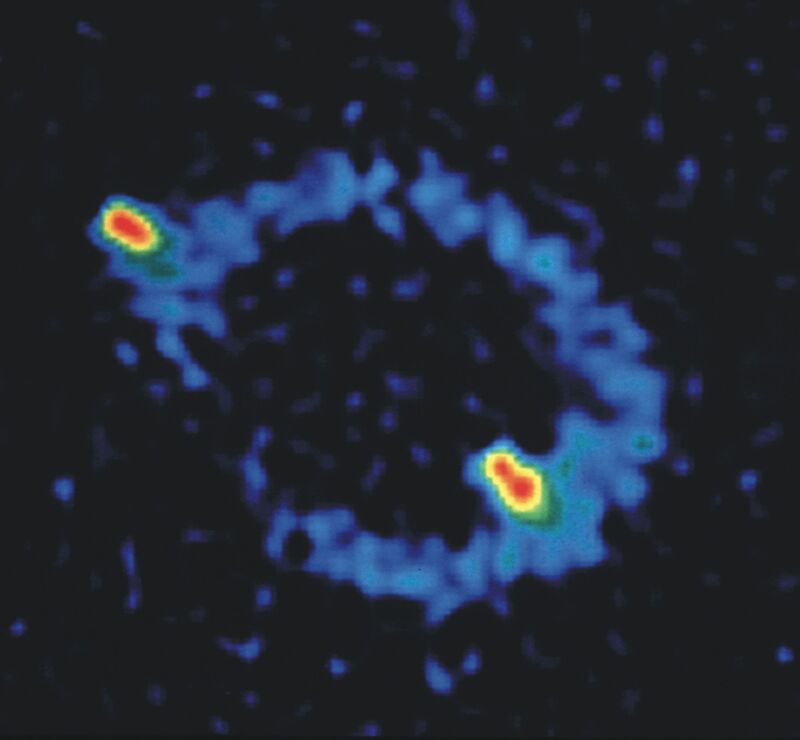 Description
This radio source, 4C 05.51, has extremely unusual structure: a smooth low-surface brightness ring accompanied by two nearly diametrically opposed-compact sources, both offset to the southwest; The optical and radio spectral properties appear inconsistent with a Supernova Remnant or an HII Region, astronomical systems that sometimes display ring-like structure. The structure strongly suggests that it is due to gravitational lensing, by a foreground massive object of light from a Quasar or Radio Galaxy. If this is the case, then this object represents an "Einstein Ring", a particularly symmetric case of gravitational lensing first proposed by Einstein in 1936, in which the source is imaged into a ring. Further observations are being carried out to test the lens hypothesis.
VLA in A-configuration using 26 antennas.
Creator
Legacy Astronomical Images
Rights
NRAO/AUI/NSF does not hold full copyright for this image. Contact the archivist for details.
Type
Legacy Astronomical Image
Investigators
J.N. Hewitt, E.L. Turner
Telescope
Very Large Array (VLA)
Observation Date
1987-09-20
Type of Observation
continuum
Center of Image
RA 11:31:56.470, Dec: 4:55:48.800 (J2000)
Field of View
0.001400 x 0.001400 degrees
Notes
Contact the archivist for a high resolution tif of this image.
Series
Miscellaneous Series
Citation
Legacy Astronomical Images, "Einstein Ring 4C 05.51,"
NRAO Archives
, accessed October 21, 2021,
https://www.nrao.edu/archives/items/show/33593
.