GBT-Arecibo Image of Asteroid 2001 EC16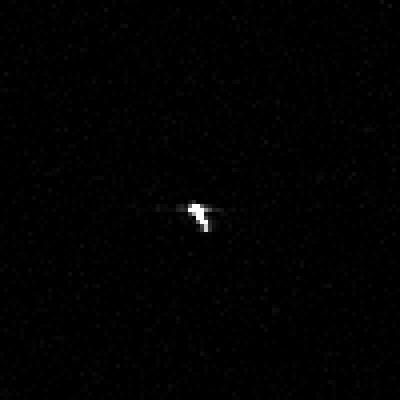 Description
This is a radar image of near Earth asteroid "2001 EC16" made by transmitting a signal at 13 cm wavelength from Arecibo and using the GBT to detect the reflection off the asteroid. The asteroid is roughly 100 meters in size and was only 0.02 AU away (7 lunar distances). These observations show it to be slightly elongated and has a rotation period of several days.
Resolution in this image is 15 meters.
Creator
Legacy Astronomical Images
Rights
NRAO/AUI/NSF does not hold full copyright for this image. Contact the archivist for details.
Type
Legacy Astronomical Image
Investigators
Donald Campbell, Jean-Luc Margot, Lynn Carter, Bruce Campbell
Telescope
Green Bank Telescope (GBT)
Arecibo
Observation Date
2001-03-26
Type of Observation
continuum
Center of Image
RA 25:0:0.000, Dec: 0:0:0.000 (J2000)
Series
Solar System Series
Citation
Legacy Astronomical Images, "GBT-Arecibo Image of Asteroid 2001 EC16,"
NRAO Archives
, accessed October 16, 2021,
https://www.nrao.edu/archives/items/show/33606
.