Radar Image of Mercury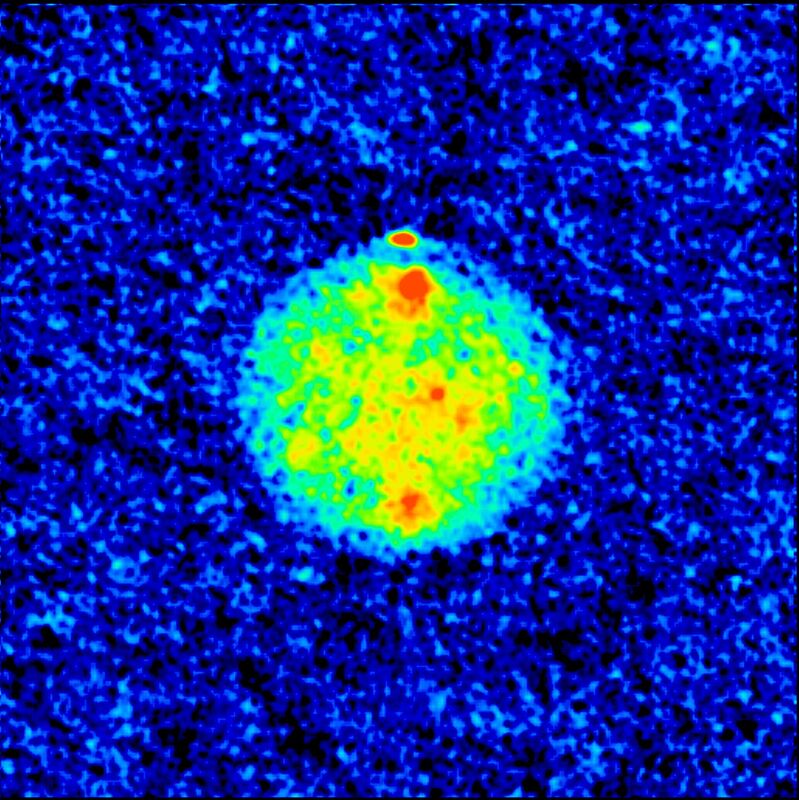 Description
This image of Mercury was the result of a bi-static radar experiment performed during the conjunction of August, 1991. The experiment used the JPL/DSN 70-m antenna in Goldstone, CA, as the transmitter, and the Very Large Array (VLA) as the receiver. The wavelength was 3.5 cm, and this image is in the same circular polarization as that transmitted. Red areas are areas of high radar reflectivity, which can either be a result of surface and near-surface composition, or surface roughness. The north pole was visible at the time, and the area with the highest radar echoes was located there. Because of the peculiar polarization signature of this feature, we postulate that it indicates the presence of significant amounts of water ice. A similar region has been detected by our group and another group at the Arecibo antenna which is associated with the south polar regions. The two other large reflective regions are in regions which have never been photographed, so the cause of the high reflectivities remains a mystery.
Creator
Legacy Astronomical Images
Rights
NRAO/AUI/NSF does not hold full copyright for this image. Contact the archivist for details.
Type
Legacy Astronomical Image
Investigators
Duane O. Muhleman (Caltech)
Telescope
Very Large Array (VLA)
Goldstone
Observation Date
1991-08-01
Type of Observation
spectral line
Center of Image
RA 25:0:0.000, Dec: 0:0:0.000 (J2000)
Notes
Contact the archivist for a high resolution tif of this image.
Series
Solar System Series
Citation
Legacy Astronomical Images, "Radar Image of Mercury,"
NRAO Archives
, accessed October 21, 2021,
https://www.nrao.edu/archives/items/show/33609
.