An Observer at Work (GB77-15007)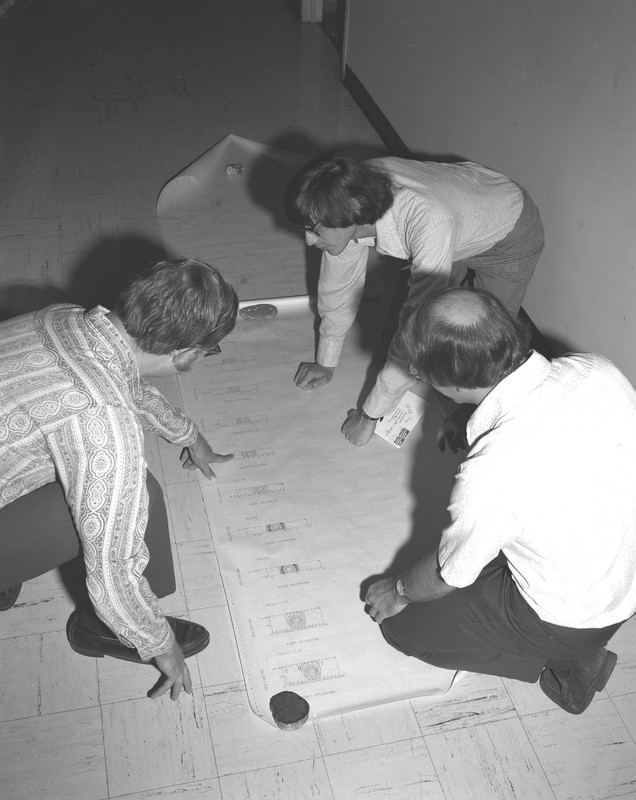 Subject
Description
Before the advent of Google Docs, Dropbox, SharePoint, and other digital collaborative tools, researchers used the time-honored method of crouching around unfurled Calcomp printer plots. In this photo from September 1977, Pat Crane, Barry Geldzahler, and Dave Shaffer consider data as displayed on the floor of the Jansky Lab in Green Bank.
Creator
Records of the NRAO
Original Format of Digital Item
B&W negative
Location
Photo Credit
NRAO/AUI/NSF
Historical Negative #
GB77-15007
Notes
Part of an 80-photo sequence taken for use in the Green Bank Tourist Trailer to illustrate an observer at work.
Series
Green Bank Operations Series
Unit
Green Bank Site Administration Unit
Subunit
"An Observer Visits NRAO" Subunit
Citation
Records of the NRAO, "An Observer at Work (GB77-15007),"
NRAO Archives
, accessed March 29, 2023,
https://www.nrao.edu/archives/items/show/29940
.