Grote Reber, 1981 & 1992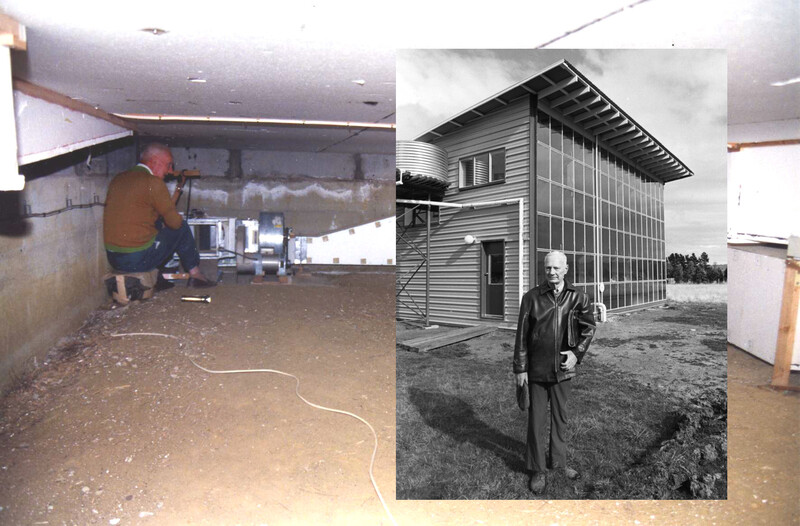 Description
Grote Reber was interested in a broad range of topics beyond radio astronomy - including meteorology, lava flows, botany, archaeology - and was often ahead of his time in his thinking. In the late 1970s, concerned about the growing energy crisis and the increased use of fossil fuels, he built an energy-efficient house in Tasmania. Reber wrote about the house into which he had recently moved in his March 1981 letter to Canadian radio astronomer John Galt: "So far, it has been quite pleasant. However, proof of performance will be next winter." The house did perform extremely well, and in 1990 Reber received an energy efficiency reward from the state government and the Hydro Electric Commission. In this photo, Reber stands in front of his new house in 1981, and adjusts his basement ductwork in 1992.
Creator
Papers of Grote Reber
Rights
Contact Archivist for rights information.
Relation
From the NRAO eNews, vol. 12, #1, 28 January 2019
Identifier
reber-house-1981-basement-ducts-1992.jpg
People
Location
Photographer
Photo Credit
Martin George, Launceston Planetarium, Tasmania
Notes
High resolution .tif available.
Series
Photographs Series
Subunit
Grote Reber Subunit
Citation
Papers of Grote Reber, "Grote Reber, 1981 & 1992,"
NRAO Archives
, accessed March 29, 2023,
https://www.nrao.edu/archives/items/show/31600
.