Jansky Antenna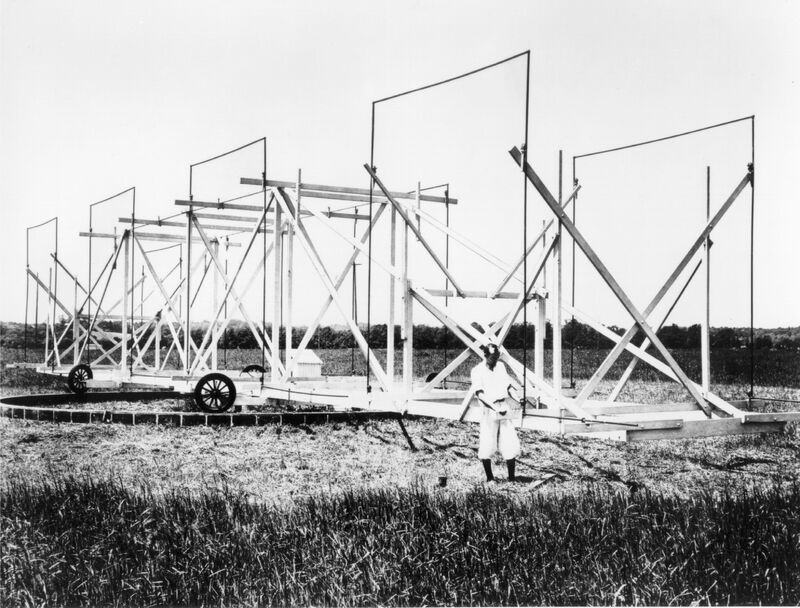 Subject
Description
Karl Jansky, working at Bell Telephone Laboratories in Holmdel, NJ, in 1928, wanted to investigate using "short waves" (wavelengths of about 10-20 meters) for transatlantic radio telephone service. Jansky was assigned the job of investigating the sources of static that might interfere with radio voice transmissions. He built this antenna to receive radio waves at a frequency of 20.5 MHz (wavelength about 14.5 meters). It was mounted on a turntable that allowed it to rotate in any direction, earning it the name "Jansky's merry-go-round". By rotating the antenna, one could find what the direction was to any radio signal. Janksy used this antenna to identify radiation coming from the Milky Way that was strongest in the direction of the center of our Milky Way galaxy, in the constellation of Sagittarius.
Creator
Papers of Karl G. Jansky
Rights
Contact Archivist for rights information.
Identifier
JanskyatAntenna_hi.jpg
People
Location
Photo Credit
Contact Archivist for photo credit information.
Notes
Contact NRAO Archives for a high resolution tiff of this image.
Series
Photographs Series
Citation
Papers of Karl G. Jansky, "Jansky Antenna,"
NRAO/AUI Archives
, accessed June 9, 2023,
https://www.nrao.edu/archives/items/show/32732
.