Compact Symmetric Object 1946+708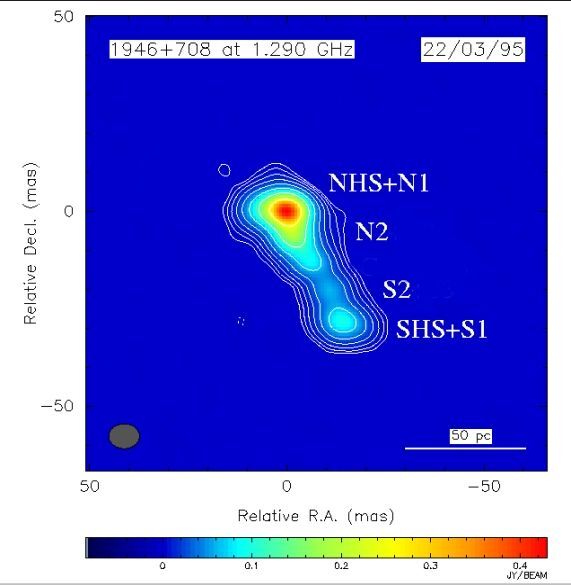 Description
This image shows the Compact Symmetric Object 1946+708 (TXS 1946+708), taken with the VLBA in March, 1995. Compact Symmetric Sources (CSOs) are small sources with lobe emission on both sides of an active core. They are very similar to classical extended radio sources but have a much smaller linear size, less than 1 kiloparsec. The study of these objects is particularly interesting because the CSO properties are related to the young source ages, 10,000 to 100,000 years. Unifying evolutionary models have been proposed whereby CSOs evolve into CSS (Compact Steep Spectrum) sources and then into Fanaroff-Riley type II galaxies or possibly Fanaroff-Riley type I radio galaxies.
The structure and orientation of this object was studied by Taylor and Vermeulen (1997), in which the proper motions of the jet components (N2 & S2) were determined. The resulting range of angles of inclination to the line of sight is 65 to 80 degrees, where the northern side of 1946+708 (labeled NHS, for Northern Hot Spot) is the approaching jet.
Creator
Legacy Astronomical Images
Rights
NRAO/AUI/NSF does not hold full copyright for this image. Contact the archivist for details.
Type
Legacy Astronomical Image
Photo Credit
Alison Peck and Greg Taylor
Investigators
Alison Peck, Greg Taylor
Telescope
Very Long Baseline Array (VLBA)
Observation Date
1995-03-22
Type of Observation
continuum
Center of Image
RA 19:45:53.620, Dec: 70:55:48.800 (J2000)
Field of View
0.000028 x 0.000028 degrees
Series
Active Galactic Nuclei Series
Citation
Legacy Astronomical Images, "Compact Symmetric Object 1946+708,"
NRAO Archives
, accessed December 3, 2021,
https://www.nrao.edu/archives/items/show/33361
.