VLA & VLBA Jet Image NGC 315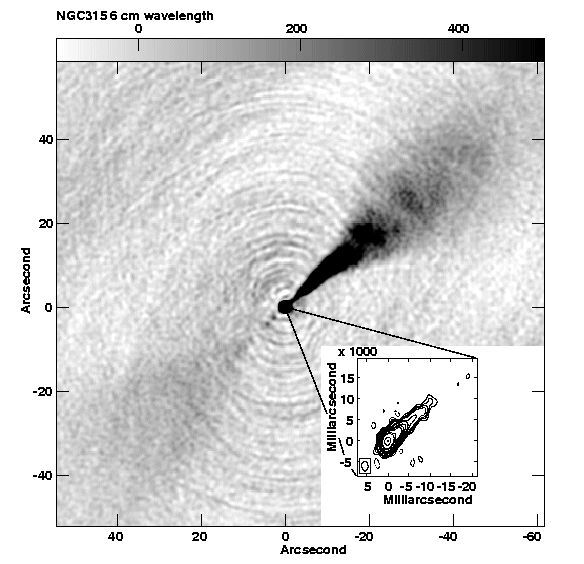 Description
Here is a splendid example of the difference in observing capabilities of the VLBA and the VLA. This is the jet emitted from the core of NGC315, a giant radio galaxy near the constellation Andromeda. The larger image is from VLA (B configuration) data at 4885 MHz, showing the kiloparsec dimensions of a typical galactic jet. The inset is a contour plot from VLBA data at the same frequency, showing a much smaller field of view with parsec-scale resolution. Note the similar alignment of the two images, which tends to confirm their association.
Creator
Legacy Astronomical Images
Rights
NRAO/AUI/NSF does not hold full copyright for this image. Contact the archivist for details.
Type
Legacy Astronomical Image
Investigators
Alan Bridle, W.D. Cotton
Telescope
Very Large Array (VLA)
Very Long Baseline Array (VLBA)
Observation Date
1981-06-27
Type of Observation
continuum
Center of Image
RA 0:57:48.880, Dec: 30:21:8.800 (J2000)
Field of View
0.033300 x 0.033300 degrees
Series
Active Galactic Nuclei Series
Citation
Legacy Astronomical Images, "VLA & VLBA Jet Image NGC 315,"
NRAO Archives
, accessed December 4, 2021,
https://www.nrao.edu/archives/items/show/33366
.