M87 Radio Halo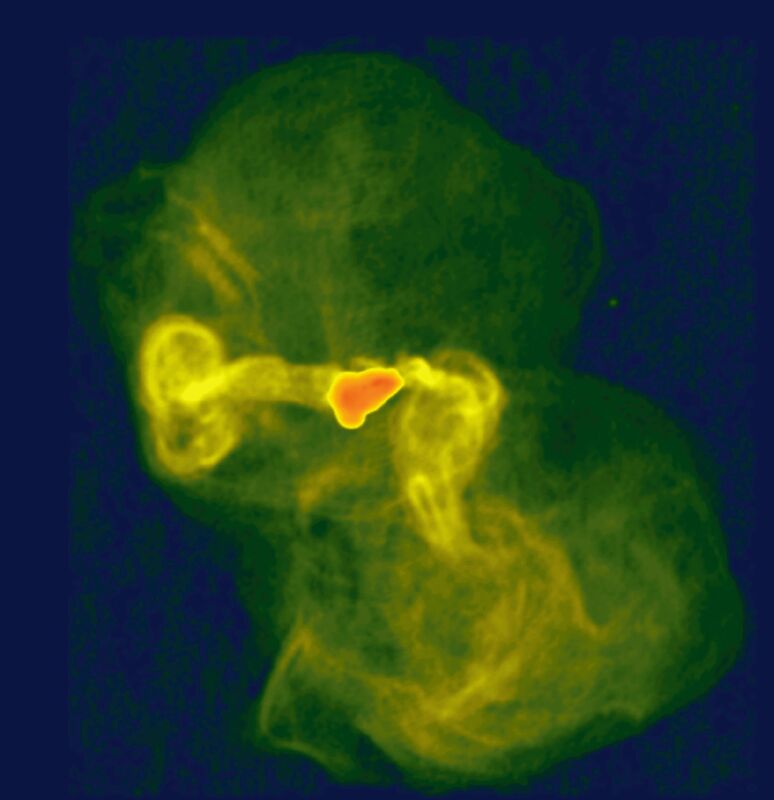 Description
This is a VLA image of the galaxy M87, showing details of the large-scale, radio-emitting "bubbles" believed to be powered by the black hole at the galaxy's center. The galaxy's center (and the black hole) lie deep within the bright, reddish region in this image. The structure in this image is approximately 200,000 light-years across. This image was made at a radio wavelength of 90 centimeters.
The convolving beam for this maximum entropy image is 7.8"x6.2", P.A.=86deg.
Creator
Legacy Astronomical Images
Rights
NRAO/AUI/NSF does not hold full copyright for this image. Contact the archivist for details.
Type
Legacy Astronomical Image
Photo Credit
F.N. Owen, J.A. Eilek and N.E. Kassim
Investigators
F. Owen, J. Eilek, N. Kassim
Telescope
Very Large Array (VLA)
Observation Date
1999-00-00
Type of Observation
continuum
Center of Image
RA 12:30:49.420, Dec: 12:23:28.000 (J2000)
Field of View
0.250000 x 0.250000 degrees
Link to journal article
Notes
Contact the archivist for a high resolution tif of this image.
Series
Active Galactic Nuclei Series
Citation
Legacy Astronomical Images, "M87 Radio Halo,"
NRAO Archives
, accessed December 3, 2021,
https://www.nrao.edu/archives/items/show/33370
.