Radio Galaxy 3C31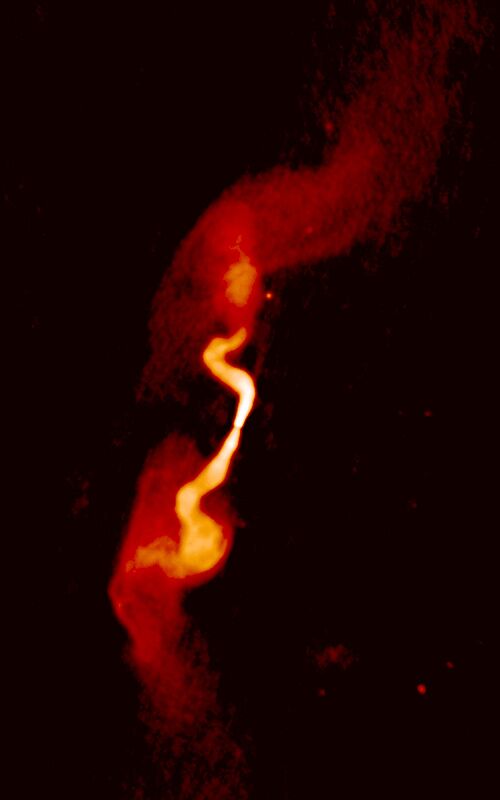 Description
This image shows the radio morphology of the radio galaxy 3C31 (NGC 383), the dominant galaxy of a prominent chain of galaxies. This system is a powerful radio source, with conical inner jets developing into distorted plumes, which stretch to a distance of 300 kpc from the center of the galaxy (980,000 light years, for a Hubble constant of 100 km/s/Mpc). The radio emission is due to relativistic streams of high energy particles generated by the radio source at the center of the radio galaxy. Astronomers believe that the jets are fueled by material accreting onto a super-massive black hole. The high energy particles are shot into extragalactic space at speeds approaching the speed of light, where they eventually balloon into massive radio plumes.
FR I (plumed) radio galaxy at z=0.0169. VLA 1.4 GHz image at 5.5 arcsec resolution.
Creator
Legacy Astronomical Images
Rights
NRAO/AUI/NSF does not hold full copyright for this image. Contact the archivist for details.
Type
Legacy Astronomical Image
Investigators
Robert Laing, Alan Bridle, Richard Perley, Luigina Feretti, Gabriele Giovannini, Paola Parma
Telescope
Very Large Array (VLA)
Observation Date
1996-00-00
Type of Observation
continuum
Center of Image
RA 1:7:24.960, Dec: 32:24:45.200 (J2000)
Field of View
0.200000 x 0.400000 degrees
Notes
Contact the archivist for a high resolution tif of this image.
Series
Active Galactic Nuclei Series
Citation
Legacy Astronomical Images, "Radio Galaxy 3C31,"
NRAO Archives
, accessed December 3, 2021,
https://www.nrao.edu/archives/items/show/33372
.