Fornax A Polarization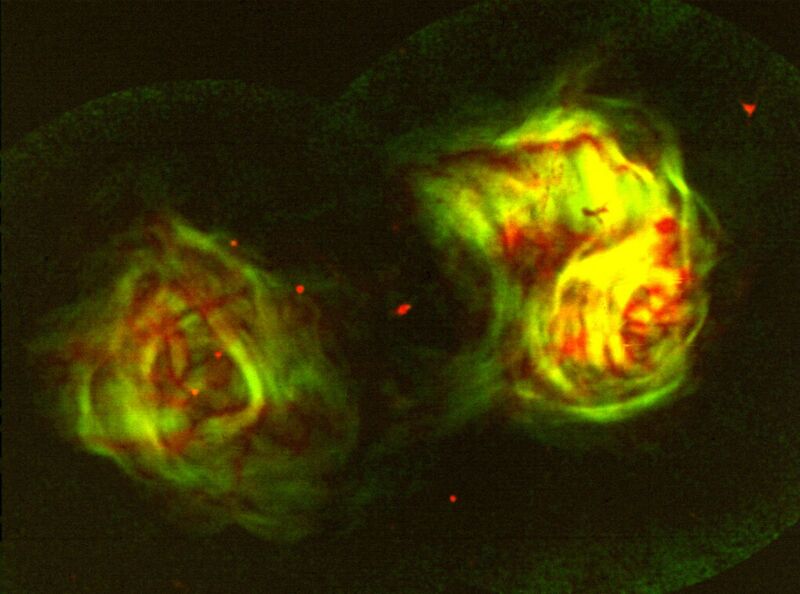 Description
Fornax A, radio galaxy associated with the bright elliptical galaxy NGC1316. In this hue-intensity image the brightness corresponds to the intensity of the lobes while the highly polarized structure is saturated white and regions of increasing depolarization are shaded red. This is the companion image to the Fornax A total intensity image also available in this Gallery
The depolarization structure in the Fornax A lobes is complex and illustrates at least 4 different effects. The large scale swirling structure (most of the Eastern lobe) results from internal depolarization in the lobes. The deep channels cutting across the source (especially the north of the western lobe) reflect the beam depolarization caused when the position angle changes by 90 degrees across the beam. The elliptical depolarized region near the tip of the western lobe is due to the foreground spiral galaxy NGC1310. The ant-like feature in the middle of the western lobe is due to a foreground depolarizing screen of mysterious origen. The image was generated at the VLA in 1986 using the Image Storage Unit developed at NRAO. This hardware allowed full interactive control of the separte RGB channels. Unfortunately this image is only available from a slide produced in 1985.
Creator
Legacy Astronomical Images
Rights
NRAO/AUI/NSF does not hold full copyright for this image. Contact the archivist for details.
Type
Legacy Astronomical Image
Investigators
Fomalont, Ekers, v Breugel, Ebneter
Telescope
Very Large Array (VLA)
Observation Date
1985-00-00
Type of Observation
continuum
Center of Image
RA 3:20:40.000, Dec: -37:23:0.000 (B1950)
Field of View
1.000000 x 0.666667 degrees
Notes
Contact the archivist for a high resolution tif of this image.
Series
Active Galactic Nuclei Series
Citation
Legacy Astronomical Images, "Fornax A Polarization,"
NRAO Archives
, accessed December 3, 2021,
https://www.nrao.edu/archives/items/show/33373
.