Inner Radio Lobes of Centaurus A (NGC 5128)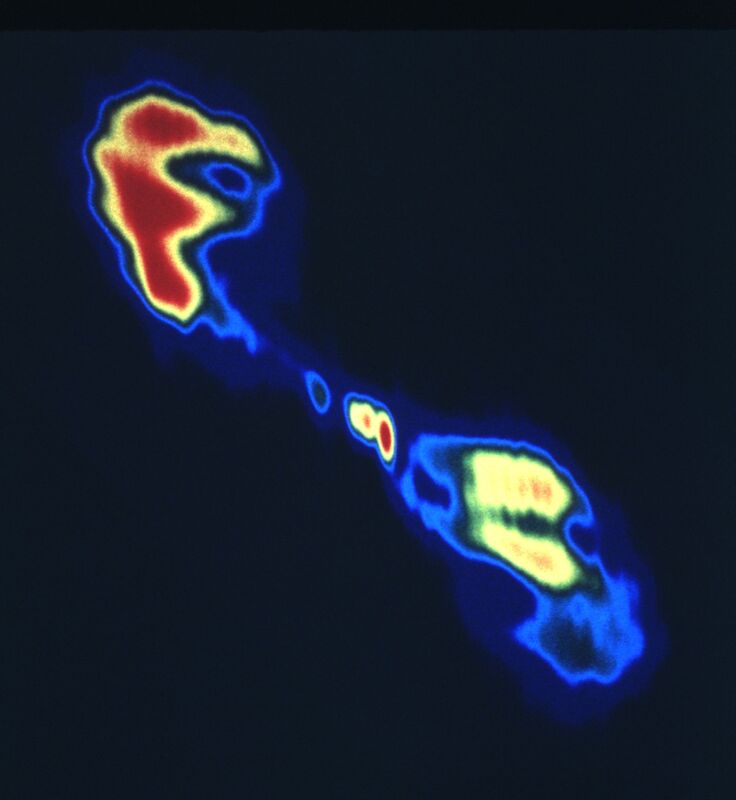 Description
Centaurus A, at a distance of 5 Mpc, is the closest powerful radio galaxy. The general radio jet and the knots within the jet line up remarkably well with the X-ray jet recently found from Einstein Observatory observations. The structure shown here is usually referred to as the "inner-lobes" to differentiate it from the much larger ~1 degree structure seen further out.
VLA - C-configuration using 25 antennas. Image processing was performed at Sandia National Laboratories in Albuquerque, New Mexico.
Creator
Legacy Astronomical Images
Rights
NRAO/AUI/NSF does not hold full copyright for this image. Contact the archivist for details.
Type
Legacy Astronomical Image
Investigators
J.0. Burns, E.J. Schreier, E.D. Feigelson
Telescope
Very Large Array (VLA)
Observation Date
1980-10-00
Type of Observation
continuum
Center of Image
RA 13:22:30.000, Dec: -42:45:30.000
Field of View
0.183300 x 0.183300 degrees
Link to journal article
Notes
Contact the archivist for a high resolution tif of this image.
Series
Active Galactic Nuclei Series
Citation
Legacy Astronomical Images, "Inner Radio Lobes of Centaurus A (NGC 5128),"
NRAO Archives
, accessed December 4, 2021,
https://www.nrao.edu/archives/items/show/33378
.