Cygnus A (B&W)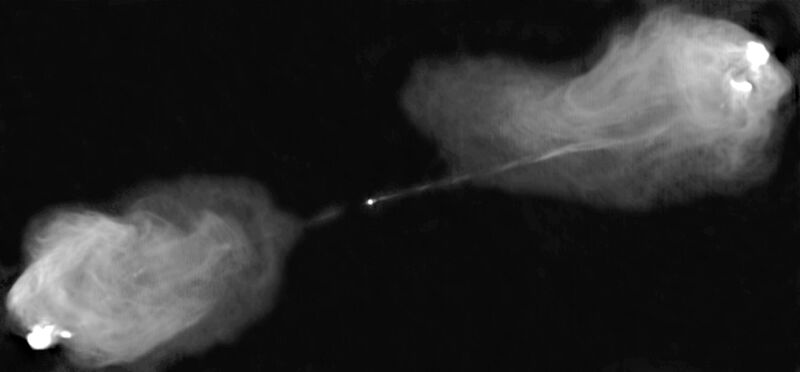 Description
The radio source Cygnus A is produced in a galaxy some 600 million light-years away. The radio waves are coming from electrons propelled at nearly the speed of light through a long, thin "jet" at the core of the galaxy and deposited in giant "radio lobes." It is here where the speeding electrons are trapped by the magnetic field around the galaxy to produce radio waves much like the Van Allen radiation belts around the Earth. Where did all the electrons come from? From the bright, small radio component in the center of the galaxy -- the location of a black hole.
5 GHz, 0.5'' resolution. The galaxy is at a redshift of 0.057 (distance = 230 Mpc = 760 Mly).
Creator
Legacy Astronomical Images
Rights
NRAO/AUI/NSF does not hold full copyright for this image. Contact the archivist for details.
Type
Legacy Astronomical Image
Investigators
R. Perley, C. Carilli, J. Dreher
Telescope
Very Large Array (VLA)
Observation Date
1983-02-01
Type of Observation
continuum
Center of Image
RA 19:59:28.360, Dec: 40:44:1.900
Field of View
0.038300 x 0.021700 degrees
Link to journal article
Notes
Contact the archivist for a high resolution tif of this image.
Series
Active Galactic Nuclei Series
Citation
Legacy Astronomical Images, "Cygnus A (B&W),"
NRAO Archives
, accessed December 3, 2021,
https://www.nrao.edu/archives/items/show/33384
.