Radio Galaxy 3C83.1B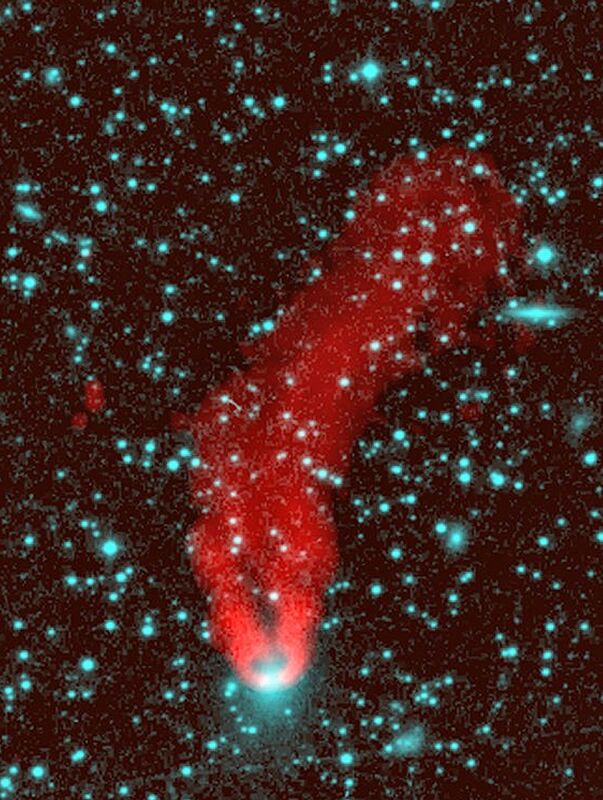 Description
This is a false-color image of the wide-angle radio galaxy 3C83.1B, associated with the elliptical galaxy NGC1265 in the Perseus Cluster of galaxies. Blue colors show the distribution of stars, made from an image from the Digitized Second Palomar Sky Survey, and red colors show the radio radiation as imaged by the VLA, measured at a wavelength of 20cm. The galaxy is moving through the intergalactic medium of the Perseus Cluster at a velocity of about 2000 km/s. It is thought that twin beams of plasma ejected from the galactic nucleus are bent by the ram pressure exerted by the external gas, producing the 'U' shape. The radio tail extends much further than is visible in this image.
Radio data: VLA C+D array L-band (20cm) observation, 12" resolution.
Creator
Legacy Astronomical Images
Rights
NRAO/AUI/NSF does not hold full copyright for this image. Contact the archivist for details.
Type
Legacy Astronomical Image
Photographer
Optical/radio superposition by Alan Bridle
Investigators
C. P. O'Dea, F. N. Owen
Telescope
Very Large Array (VLA)
Observation Date
1981-11-12
Type of Observation
continuum
Center of Image
RA 3:18:15.800, Dec: 41:51:28.000 (J2000)
Field of View
0.216667 x 0.233333 degrees
Link to journal article
Notes
Contact the archivist for a high resolution tif of this image.
Series
Active Galactic Nuclei Series
Citation
Legacy Astronomical Images, "Radio Galaxy 3C83.1B,"
NRAO Archives
, accessed December 3, 2021,
https://www.nrao.edu/archives/items/show/33387
.