Head-Tail Galaxy IC 708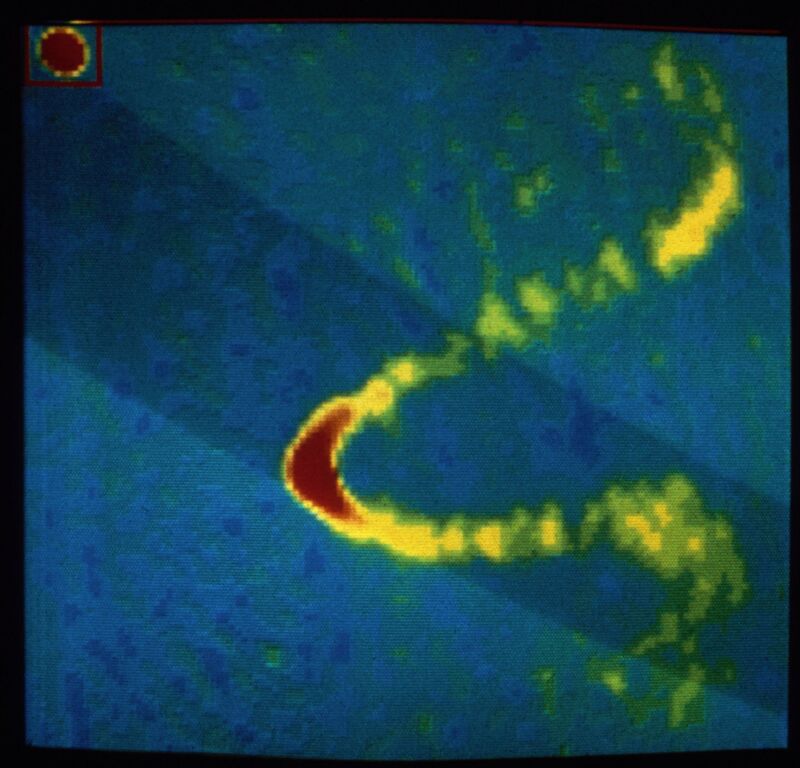 Description
An unusual head-tail galaxy (member of a binary pair) in the Abell 1314 cluster of galaxies. This map shows twin jets of radio emission bending behind the active galaxy IC 708 as it moves through the gaseous atmosphere of A1314. The optical galaxy IC 708 is located at the apex of the bright red crescent (below, left of center). The pressure of the gas sweeps the radio-emitting material ejected by the galaxy into two "wakes" trailing behind it. Studies of these wakes allow both the past motioin of the parent galaxy and conditions in the cluster atmosphere to be examined. This map suggests a dynamical interpretation of the radio structure in which a normal twin head-tail morphology has been distorted by an eccentric orbital motion of IC 708 during a gravitational encounter with a nearby galaxy, IC 709 (located out of the picture, at bottom left).
VLA in hybrid-configuration using 14 antennas. Resolution: 3.3 x 4.0 arcsec.
Creator
Legacy Astronomical Images
Rights
NRAO/AUI/NSF does not hold full copyright for this image. Contact the archivist for details.
Type
Legacy Astronomical Image
Investigators
J.P. Vallee, A.H. Bridle, A.S. Wilson
Telescope
Very Large Array (VLA)
Observation Date
1979-02-03
Type of Observation
continuum
Center of Image
RA 11:33:59.420, Dec: 49:3:41.800 (J2000)
Field of View
0.033333 x 0.033333 degrees
Notes
Contact the archivist for a high resolution tif of this image.
Series
Active Galactic Nuclei Series
Citation
Legacy Astronomical Images, "Head-Tail Galaxy IC 708,"
NRAO Archives
, accessed December 4, 2021,
https://www.nrao.edu/archives/items/show/33391
.