Radio Jets of 3C449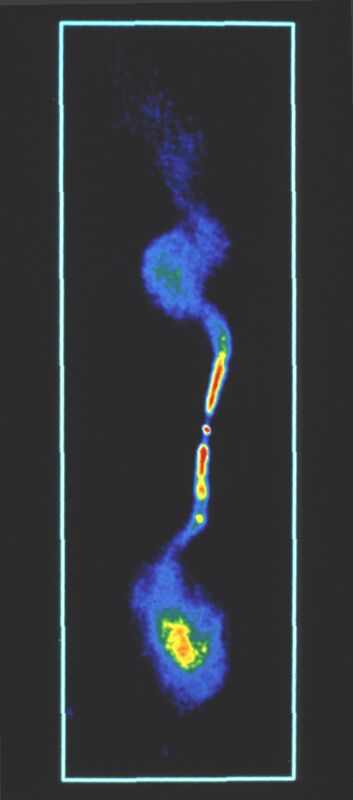 Description
VLA radio image of dual radio jets emerging from opposite sides of the nucleus of a large elliptical galaxy whose optical dimensions are about 1/10th the radio features. The redshift of the galaxy is 5400 km/s; the distance is 180 million light-years for a Hubble constant of 100 km/s/Mpc. The radio jets expand to form diffuse radio lobes outside of the galaxy halo. The interpretation is that the jets delineate the channels through which energy flows from the nucleus to power the outer radio source lobes.
Creator
Legacy Astronomical Images
Rights
NRAO/AUI/NSF does not hold full copyright for this image. Contact the archivist for details.
Type
Legacy Astronomical Image
Investigators
R.A. Perley, A.G. Willis
Telescope
Very Large Array (VLA)
Observation Date
1978-09-29
Type of Observation
continuum
Center of Image
RA 22:29:7.630, Dec: 39:6:3.500 (J2000)
Notes
Contact the archivist for a high resolution tif of this image.
Series
Active Galactic Nuclei Series
Citation
Legacy Astronomical Images, "Radio Jets of 3C449,"
NRAO Archives
, accessed December 3, 2021,
https://www.nrao.edu/archives/items/show/33392
.