X-Ray Nova GRO J1655-40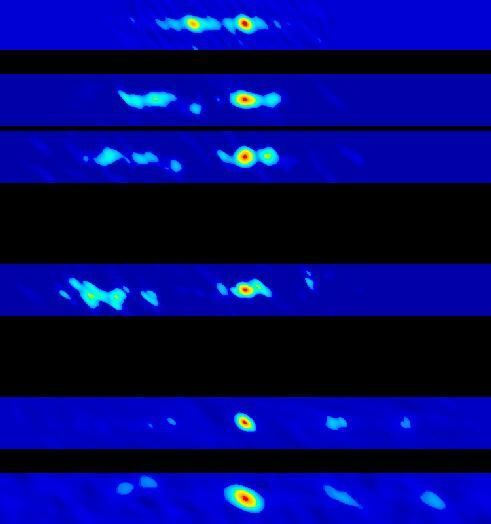 Description
A time ordered sequence of images of the microquasar GRO J1655-10, with earlier times at the top and later times underneath. This sequence covers a month in the life of the microquasar, as imaged by the VLBA. GRO J1655-40 is a binary system in which the outer envelope of the normal star is overflowing onto its black hole companion. The accreting matter swirls into a rapidly rotating disk as it falls towards the black hole; near the center, some of this matter is "squirted out" perpendicular to the disk, at relativistic speeds (i.e, speeds approaching the speed of light). The radio emission associated with these relativistic jets is what we see here. The intrinsic speed of these jets is about 90% of the speed of light. Because the jets are moving almost as fast as the radiation they emit, the approaching jet appears to move even faster, and the apparent motions range up to 1.3 times the speed of light.
VLBA images at 1.6 GHz. Images made from data collected in August and September, 1994. Top image from Aug 18-19; next one from Aug 22-23; next Aug 25-26; next Aug 25-26; next Sep 1-2; next Sep 8-9; next Sep 12-13; and last Sep 20-21.
Creator
Legacy Astronomical Images
Rights
NRAO/AUI/NSF does not hold full copyright for this image. Contact the archivist for details.
Type
Legacy Astronomical Image
Investigators
Robert Hjellming, Michael Rupen
Telescope
Very Long Baseline Array (VLBA)
Observation Date
1994-09-00
Type of Observation
continuum
Center of Image
RA 16:54:0.140, Dec: -39:50:44.900 (J2000)
Field of View
0.000833 x 0.000111 degrees
Series
Galactic Sources Series
Citation
Legacy Astronomical Images, "X-Ray Nova GRO J1655-40,"
NRAO Archives
, accessed December 3, 2021,
https://www.nrao.edu/archives/items/show/33417
.