Scorpius X-1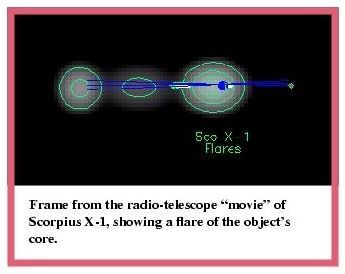 Description
This is a frame from a "movie" of the binary-star system Scorpius X-1, more than 9,000 light-years from Earth. Made using a world-wide collection of radio telescopes, this movie covers 56 hours during June of 1999. In the movie, the numbers along the edges of the frame are distances in billions of miles. The zero point is the location of the binary-star system containing a superdense neutron star and a "normal" star about the size of the Sun. The original images were made about 50 minutes apart, and additional images were generated by interpolation to produce a movie of 231 frames.
The observations consist of seven consecutive 8hr VLBI observations cycling among three different arrays: the VLBA with the VLA; the APT (Asia-Pacific Telescope: Australian Telescope Compact Array, Ceduna, Hartebeesthoek, Kashima, Mopra, Parkes and Shanghai); and the EVN (European VLBI Network: Effelsberg, Jodrell Bank, Medicina, Noto, Westerbork, plus Hartebeesthoek and the Green Bank 140ft).
Creator
Legacy Astronomical Images
Rights
NRAO/AUI/NSF does not hold full copyright for this image. Contact the archivist for details.
Type
Legacy Astronomical Image
Investigators
Ed Fomalont, Barry Geldzahler, Charles Bradshaw
Telescope
Very Large Array (VLA)
Very Long Baseline Array (VLBA)
140 Foot Telescope
EVN
HartRAO
ATCA
Parkes
Mopra
Hobart
Ceduna
Shanghai
Kashima
Observation Date
1999-06-13
Type of Observation
continuum
Center of Image
RA 16:19:55.100, Dec: -15:38:25.000 (J2000)
Field of View
0.000017 x 0.000006 degrees
Series
Galactic Sources Series
Citation
Legacy Astronomical Images, "Scorpius X-1,"
NRAO Archives
, accessed December 3, 2021,
https://www.nrao.edu/archives/items/show/33420
.