Microquasar GRS 1915+105 (V* V1487 Aql)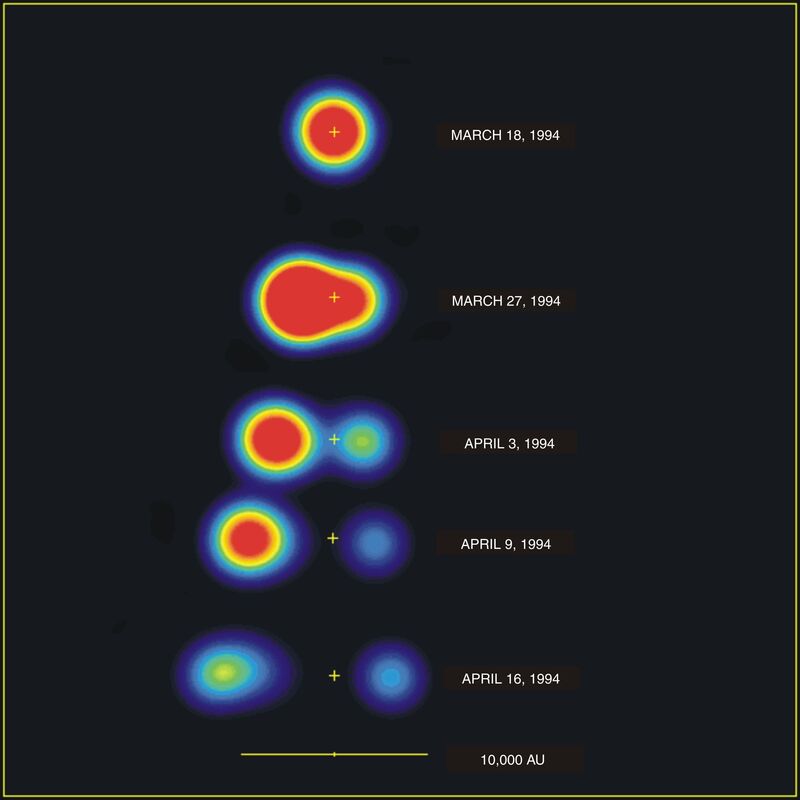 Description
This sequence of VLA images shows the violent ejection of twin radio-emitting blobs of plasma, from a black hole of about 14 solar masses, residing in our own Galaxy. In this sequence of six images shown (epochs appear on the right) we see, on top, the stationary core of the hard X-ray source (likely a binary system with the black hole as one of the components) . One day after this observation, a major ejection event produced two condensations that move to the right and left. The cross marks the position of the stationary core of the source. The condensation moving to the left is approaching us obliquely and appears to displace in the sky at 125 percent of the speed of light; this is however only a relativistic illusion and the true speed of both condensations is 92 percent of the speed of light. The black hole's gravity holds a more normal star in tight orbit, and gas from this companion is transferred, or accreted, onto the hole, emitting x-rays as it is heated to a million degrees C. Some accreting X-ray binaries emit radio jets, tiny cousins of the quasars & Active Galactic Nuclei, black holes of millions of solar masses in the center of distant galaxies.
VLA in A-array
Creator
Legacy Astronomical Images
Rights
NRAO/AUI/NSF does not hold full copyright for this image. Contact the archivist for details.
Type
Legacy Astronomical Image
Investigators
I.F. Mirabel, L.F. Rodriguez
Telescope
Very Large Array (VLA)
Observation Date
1994-04-00
Type of Observation
continuum
Center of Image
RA 19:15:11.550, Dec: 10:56:44.800 (J2000)
Field of View
0.000417 x 0.000833 degrees
Link to journal article
Notes
Contact the archivist for a high resolution tif of this image.
Series
Galactic Sources Series
Citation
Legacy Astronomical Images, "Microquasar GRS 1915+105 (V* V1487 Aql),"
NRAO Archives
, accessed December 3, 2021,
https://www.nrao.edu/archives/items/show/33422
.