Cygnus X-3 Radio Jets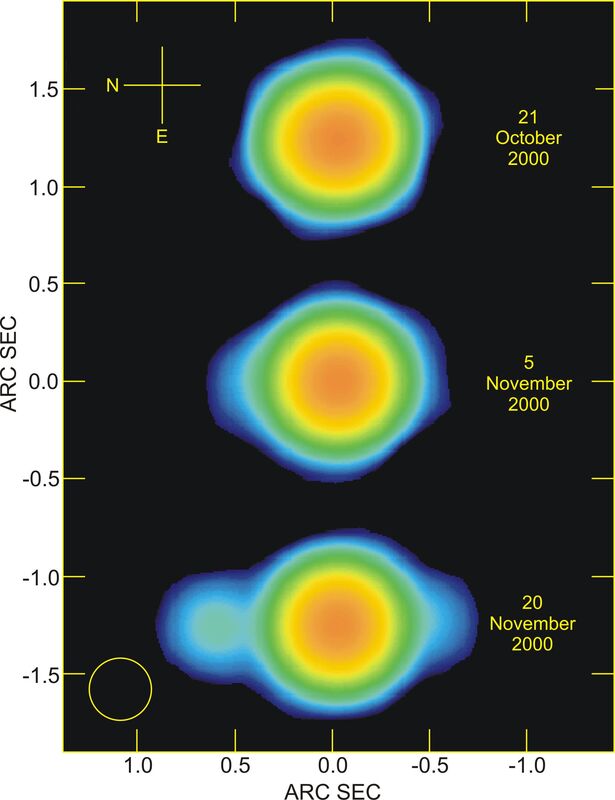 Description
This sequence shows the development of radio jets in the microquasar Cygnus X-3 as imaged by the VLA at arcsecond angular scales. Colors are coded in a logarithmic scale. Cygnus X-3 is a binary system which contains a massive Wolf Rayet star with a powerful wind, while the compact object is likely to be a black hole or a neutron star. This is the first time, since the discovery of Cygnus X-3 more than 30 years ago, that the arcsecond jets are observed so clearly and its bipolar nature becomes evident. The vertical separation of the images is proportional to the time elapsed between the epochs of observation (about 15 days). All images in this panel have been rotated 90 degree counterclockwise for better display of the expanding jets.
The maps were obtained with the VLA in A configuration at the wavelength of 6 cm. Uniform weight was used to compute all of them and the clean components were restored using a circular beam of approximately 0.3 arcsecond resolution.
Creator
Legacy Astronomical Images
Rights
NRAO/AUI/NSF does not hold full copyright for this image. Contact the archivist for details.
Type
Legacy Astronomical Image
Investigators
Josep Mart?, Josep M. Paredes, Marta Peracaula
Telescope
Very Large Array (VLA)
Observation Date
2000-10-21
Type of Observation
continuum
Center of Image
RA 20:32:26.600, Dec: 40:57:9.000
Field of View
0.000600 x 0.000300 degrees
Link to journal article
Notes
Contact the archivist for a high resolution tif of this image.
Series
Galactic Sources Series
Citation
Legacy Astronomical Images, "Cygnus X-3 Radio Jets,"
NRAO Archives
, accessed December 3, 2021,
https://www.nrao.edu/archives/items/show/33424
.