Tycho's SNR (Radio/Optical Mosaic)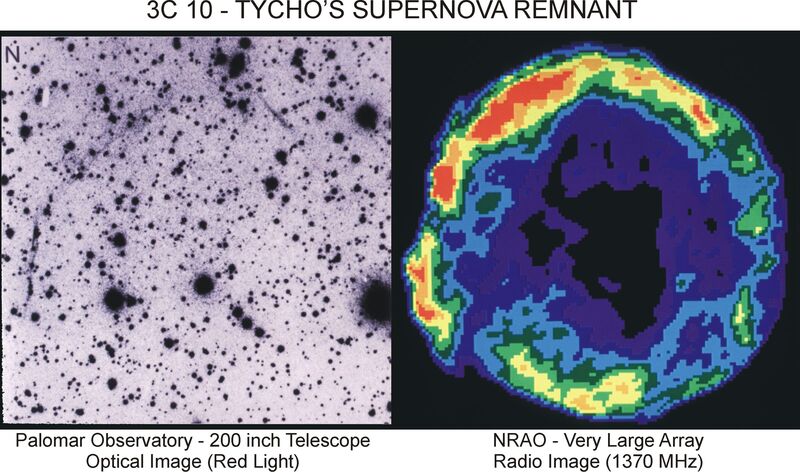 Description
Left: Optical image of Tycho's SNR taken with the Palomar 200-in telescope. Right: Radio emission from this remnant of the supernova of 1572 is produced by extremely energetic electrons gyrating in a magnetic field. The morphology of the spherically expanding blast wave from the supernova explosion is clearly visible. The observed strength of emission suggests that electrons are accelerated, and magnetic field amplified, at the shock wave. These observations, in connection with earlier theoretical work, may help elucidate the concrete physical mechanisms by which the inferred acceleration and field amplification may be occurring. As well, the quantitative profile of radio emission from the outside of the remnant, through the bright rim and down to the central plateau, can yield information on the density structure and dynamics of the expanding gas.
Left: Telescope - Palomar 200-inch. Plate + filter - 103aE + RG2. Exposure - 120 minutes September 1970. Image reproduced from Plate 1. Right: The VLA was in the C-configuration using 26 antennas.
Creator
Legacy Astronomical Images
Rights
NRAO cannot grant permission for use of the left-hand image. Permission for use of this image must be obtained from sources other than the NRAO. NRAO/AUI/NSF holds the rights to the right-hand image.
NRAO/AUI/NSF does not hold full copyright for this image. Contact the archivist for details.
Type
Legacy Astronomical Image
Investigators
S.P. Reynolds, R.A. Chevalier
Telescope
Very Large Array (VLA)
Observation Date
1981-12-10
Type of Observation
continuum
Center of Image
RA 0:22:0.000, Dec: 63:52:0.000 (B1950)
Field of View
0.283300 x 0.283300 degrees
Notes
Contact the archivist for a high resolution tif of this image.
Series
Galactic Sources Series
Citation
Legacy Astronomical Images, "Tycho's SNR (Radio/Optical Mosaic),"
NRAO Archives
, accessed December 3, 2021,
https://www.nrao.edu/archives/items/show/33425
.