Stars and Gas Orbiting the Massive Black Hole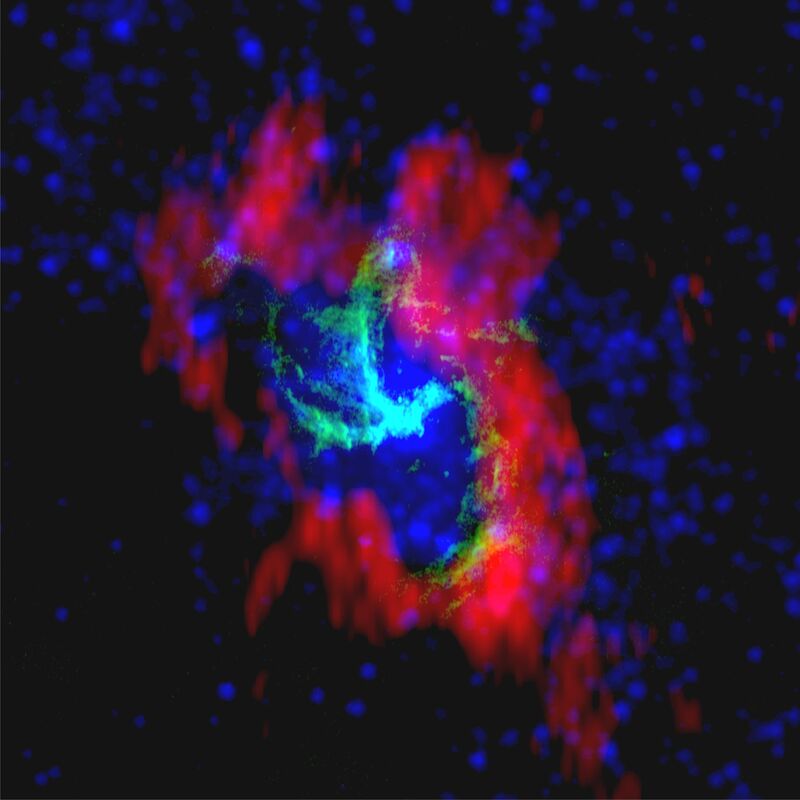 Description
Our Milky Way, like many other galaxies, harbors a massive black hole at its center that greatly influences the evolution of the nearby stars and gas. This image of the Milky Way's central region combines data over a wide range of wavelengths and include radio images from the NRAO Very Large Array (green) and BIMA (red) as well as an infrared image from the NASA Spitzer Space Telescope (blue). The red, green and blue colors represent, respectively, the cold gas, warm gas, and stars that are orbiting the Milky Way's supermassive black hole, SgrA*. Note the three-armed appearance of the ionized gas in the radio image that is superimposed on the distribution of the much colder molecular HCN emission.
Creator
Legacy Astronomical Images
Rights
NRAO/AUI/NSF does not hold full copyright for this image. Contact the archivist for details.
Type
Legacy Astronomical Image
Investigators
F. Yusef-Zadeh (Northwestern University), M. C. H. Wright (UC Berkeley), S. Stolovy (Spitzer Science Center)
Telescope
Very Large Array (VLA)
Type of Observation
continuum
Center of Image
RA 17:45:40.000, Dec: -20:0:28.000
Field of View
0.033333 x 0.033333 degrees
Notes
Contact the archivist for a high resolution tif of this image.
Series
Galactic Sources Series
Citation
Legacy Astronomical Images, "Stars and Gas Orbiting the Massive Black Hole,"
NRAO Archives
, accessed December 3, 2021,
https://www.nrao.edu/archives/items/show/33428
.