Cygnus X-1 Image with the Green Bank Telescope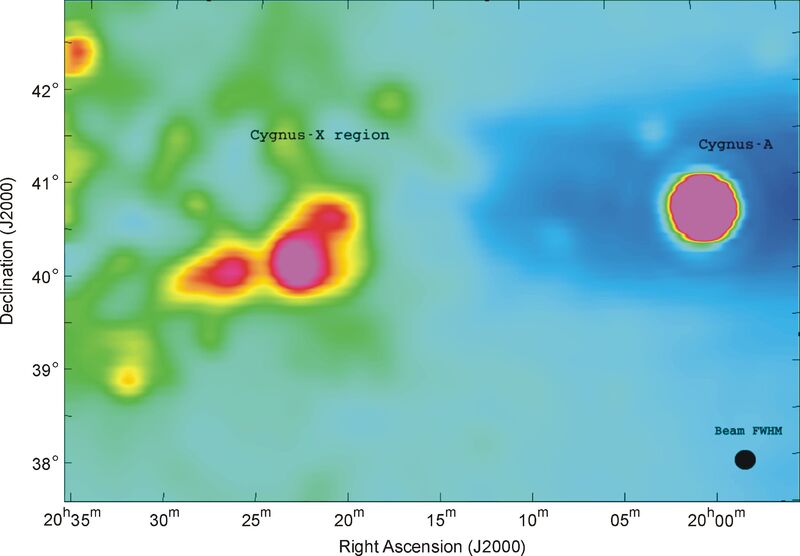 Description
An AIPS++ image of the Cygnus X region that was made during GBT commissioning at 790 MHz. The signal from Cygnus A is completely saturated. The beamwidth of the GBT at 790 MHz is approximately 16 arcminutes. The observation was made by the GBT commissioning team that is led by Ron Maddalena.
Creator
Legacy Astronomical Images
Rights
NRAO/AUI/NSF does not hold full copyright for this image. Contact the archivist for details.
Type
Legacy Astronomical Image
Investigators
Ron Maddalena, et al.
Telescope
Green Bank Telescope (GBT)
Observation Date
2001-02-00
Type of Observation
continuum
Center of Image
RA 20:20:30.000, Dec: 40:15:0.000 (J2000)
Field of View
5.500000 x 9.000000 degrees
Notes
Contact the archivist for a high resolution tif of this image.
Series
Galactic Sources Series
Citation
Legacy Astronomical Images, "Cygnus X-1 Image with the Green Bank Telescope,"
NRAO Archives
, accessed December 3, 2021,
https://www.nrao.edu/archives/items/show/33429
.