Planetary Nebula IC 3568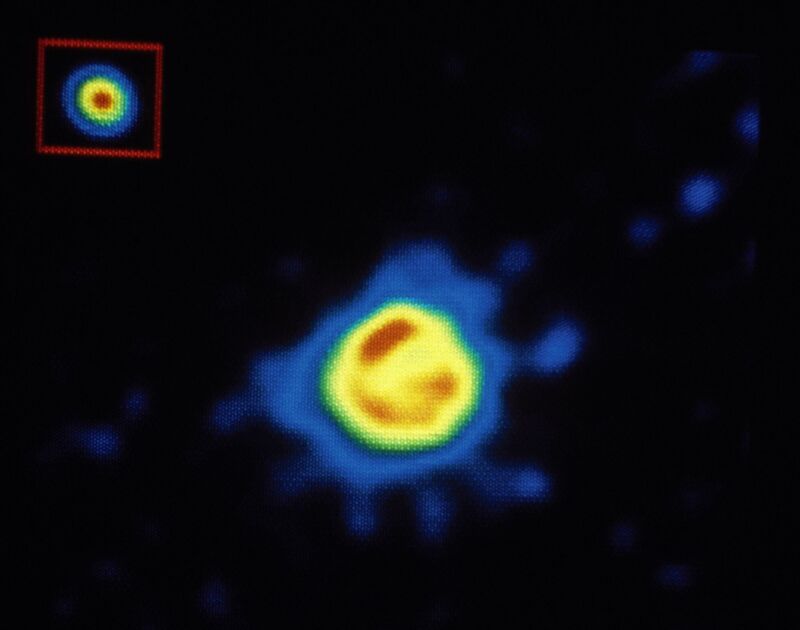 Description
In 1977, the newly functioning VLA was used to map the radio emission from shells of hot gas, known as planetary nebulae, ejected from dying stars. The intensity of the radiation is denoted by color, which ranges from red (brightest) to blue (faintest). The effective angular size of the array's beam is shown in the inset.
Creator
Legacy Astronomical Images
Rights
NRAO/AUI/NSF does not hold full copyright for this image. Contact the archivist for details.
Type
Legacy Astronomical Image
Investigators
R.M. Hjellming, R.C. Bignell, B. Balick
Telescope
Very Large Array (VLA)
Observation Date
1977-07-00
Type of Observation
continuum
Center of Image
RA 12:33:6.871, Dec: 82:33:48.950 (J2000)
Field of View
0.013889 x 0.008333 degrees
Link to journal article
Notes
Contact the archivist for a high resolution tif of this image.
Series
Galactic Sources Series
Unit
Planetary Nebulae Unit
Citation
Legacy Astronomical Images, "Planetary Nebula IC 3568,"
NRAO Archives
, accessed December 3, 2021,
https://www.nrao.edu/archives/items/show/33467
.