Motion of the Colliding-wind Region in WR140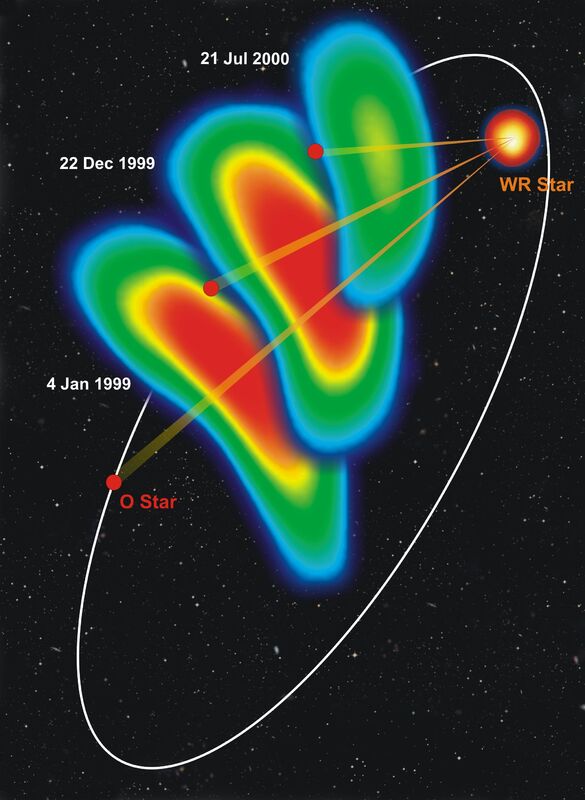 Description
Montage of three epochs of VLBA phase-referenced imaging of the archetype WR+O star colliding-wind binary system. The bright radio emission arises from the region where the stellar winds of the two masssive stars collide. The images are superimposed on an orbit derived using 23 epochs of VLBA images, including the relative position of the two stars at the three observation epochs. The observations show that the wind-collision region is bow-shaped, as anticipated from theory. The proper motion and rotation of the wind-collision region is also clear, along with the decay of the radio emission as the two stars close in on periastron (position of closet approach).
Creator
Legacy Astronomical Images
Rights
NRAO/AUI/NSF does not hold full copyright for this image. Contact the archivist for details.
Type
Legacy Astronomical Image
Photo Credit
Image courtesy of NRAO/AUI/NSF
Investigators
Sean Dougherty, Tony Beasley, Mark Claussen, Ashley Zauderer, Nick Bolingbroke
Telescope
Very Long Baseline Array (VLBA)
Observation Date
2000-01-01
Type of Observation
continuum
Center of Image
RA 20:20:27.977, Dec: 43:51:16.292 (J2000)
Field of View
0.000004 x 0.000003 degrees
Notes
Contact the archivist for a high resolution tif of this image.
Series
Galactic Sources Series
Unit
Star Forming Regions Unit
Citation
Legacy Astronomical Images, "Motion of the Colliding-wind Region in WR140,"
NRAO Archives
, accessed December 3, 2021,
https://www.nrao.edu/archives/items/show/33479
.