W49A - Ultracompact HII Regions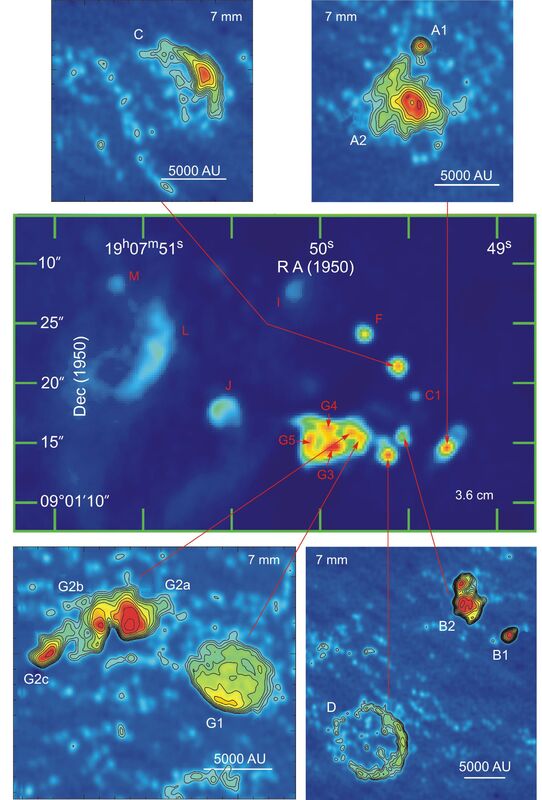 Description
Views of the ultracompact (UC) HII regions in W49A with the full resolution of the VLA at 7 mm (beam =0.04") are inset in the 3.6 cm image of the W49A region. The 7 mm image includes data collected from the A, B, and D configurations of the VLA over the past 3 years. Note that at this resolution and observing frequency, source A reveals a central shell . Source B breaks into a multiplicity of distinct sources, with B1 having an elongated morphology, and B2 a central shell of its own. The horizontal bar in each inset frame indicates 5000 AU.
Creator
Legacy Astronomical Images
Rights
NRAO/AUI/NSF does not hold full copyright for this image. Contact the archivist for details.
Type
Legacy Astronomical Image
Investigators
Chris De Pree, Miller Goss, Jack Welch, David Wilner
Telescope
Very Large Array (VLA)
Observation Date
2001-00-00
Type of Observation
continuum
Center of Image
RA 19:10:15.650, Dec: 9:6:5.500 (J2000)
Field of View
0.012500 x 0.006944 degrees
Link to journal article
Notes
Contact the archivist for a high resolution tif of this image.
Series
Galactic Sources Series
Unit
Star Forming Regions Unit
Citation
Legacy Astronomical Images, "W49A - Ultracompact HII Regions,"
NRAO Archives
, accessed December 3, 2021,
https://www.nrao.edu/archives/items/show/33485
.