W49A - B & D Regions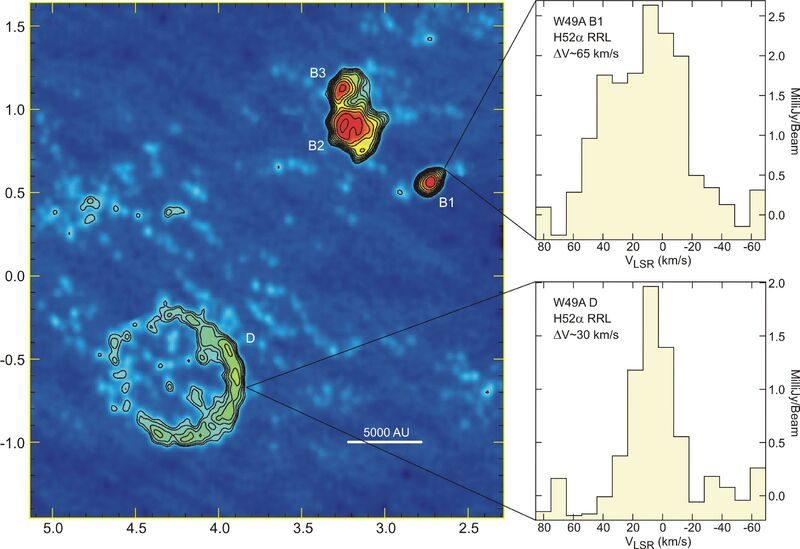 Description
The W49A B and D regions as imaged at 7 mm with the VLA. Insets show the integrated H52alpha radio recombination line flux toward sources B1 and D. A combination of imaging spectroscopy and multi-frequency observations to determine continuum spectral indices can effectively identify the youngest of the UC HII regions in a massive star forming cluster.
Creator
Legacy Astronomical Images
Rights
NRAO/AUI/NSF does not hold full copyright for this image. Contact the archivist for details.
Type
Legacy Astronomical Image
Investigators
Chris De Pree, Miller Goss, Jack Welch, David Wilner
Telescope
Very Large Array (VLA)
Observation Date
2001-00-00
Type of Observation
continuum
Center of Image
RA 19:10:15.650, Dec: 9:6:5.500 (J2000)
Field of View
0.000833 x 0.000833 degrees
Notes
Contact the archivist for a high resolution tif of this image.
Series
Galactic Sources Series
Unit
Star Forming Regions Unit
Citation
Legacy Astronomical Images, "W49A - B & D Regions,"
NRAO Archives
, accessed December 3, 2021,
https://www.nrao.edu/archives/items/show/33486
.