3 Views of W49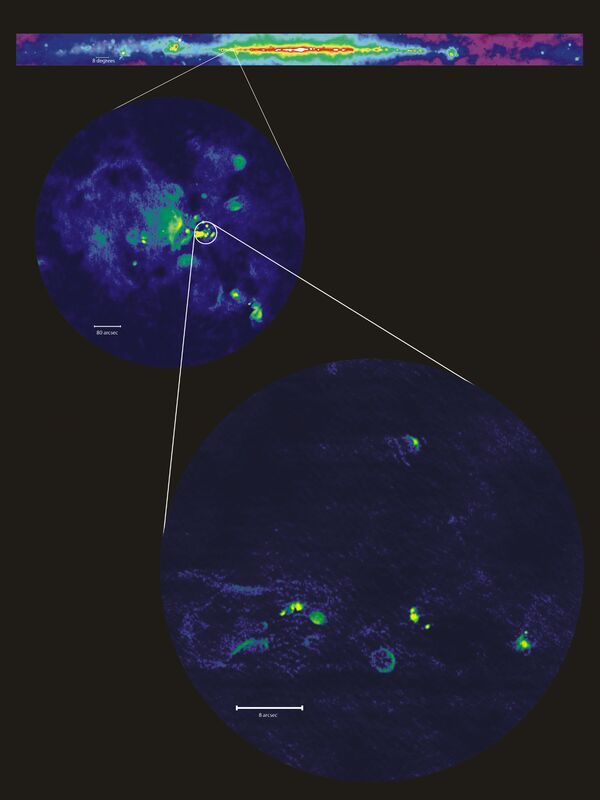 Description
These images show the W49A star forming region in context. The top image (Haslam, C. G. T., Salter, C. J., Stoffel, H., & Wilson, W. E. 1982, Astron. Astrophys. Suppl. Ser., 47, 1) shows the location of W49A in the galactic plane. The middle image shows the 3.6 cm emission from W49A. The image indicates the presence of a large number of HII regions in a small region of the sky. W49A is perhaps the best galactic example of starburst phenomena. The bottom image shows a detail 7 mm image of the most highly obscured region in W49A. None of the regions visible at 7 mm are detected at infrared or optical wavelengths, being deeply embedded in a molecular cloud.
Creator
Legacy Astronomical Images
Rights
NRAO/AUI/NSF does not hold full copyright for this image. Contact the archivist for details.
Type
Legacy Astronomical Image
Photo Credit
De Pree, Wilner, Goss, Mehringer and Carson
Investigators
C. G. Depree
Telescope
Very Large Array (VLA)
Observation Date
1998-04-11
Type of Observation
continuum
Center of Image
RA 19:10:13.440, Dec: 9:6:29.200 (J2000)
Field of View
0.233333 x 0.233333 degrees
Notes
Contact the archivist for a high resolution tif of this image.
Series
Galactic Sources Series
Unit
Star Forming Regions Unit
Citation
Legacy Astronomical Images, "3 Views of W49,"
NRAO Archives
, accessed December 3, 2021,
https://www.nrao.edu/archives/items/show/33491
.