Cluster of High-Mass Young Stellar Objects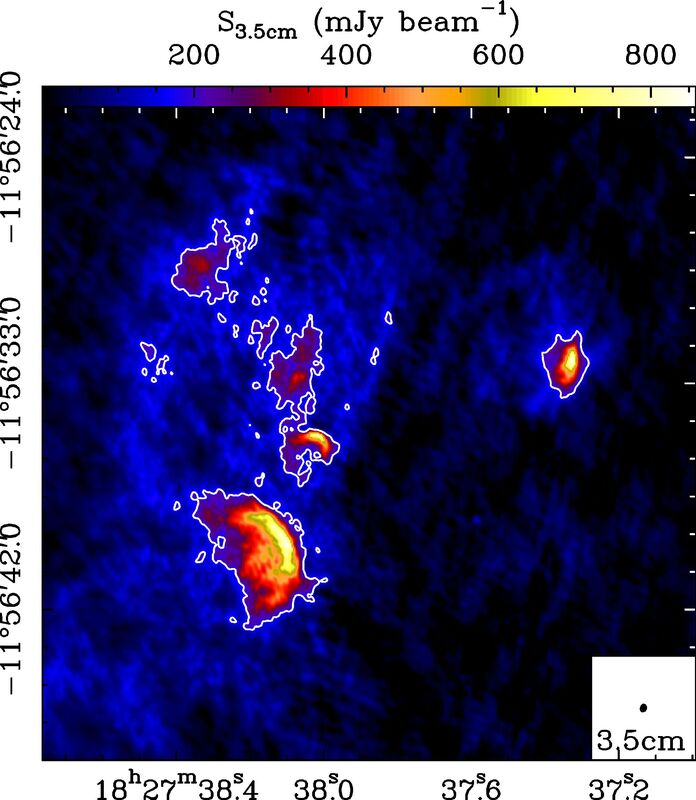 Description
Combining VLA 8 GHz continuum emission data from the archive, taken over the past ~15 years by different observing groups, we have found the G19.61-0.23 region to contain more than 9 ultra-compact H-II regions of gas ionized by massive young stars. This image clearly shows that high-mass stars form in clusters.
The white contour indicate the 10-sigma level of the image noise level.
Creator
Legacy Astronomical Images
Rights
NRAO/AUI/NSF does not hold full copyright for this image. Contact the archivist for details.
Type
Legacy Astronomical Image
Investigators
Furuya, et al.
Telescope
Very Large Array (VLA)
Type of Observation
continuum
Center of Image
RA 18:27:38.150, Dec: -11:56:39.500 (J2000)
Field of View
0.007222 x 0.007222 degrees
Notes
Contact the archivist for a high resolution tif of this image.
Series
Galactic Sources Series
Unit
Star Forming Regions Unit
Citation
Legacy Astronomical Images, "Cluster of High-Mass Young Stellar Objects,"
NRAO Archives
, accessed December 3, 2021,
https://www.nrao.edu/archives/items/show/33498
.